Pakistan possesses a very diverse and scenic topography. You've got cold mountain ranges, forests, plains, wetlands, plateaus, deserts and of course a long coastline. Pakistan has it's coastline at the South of the country and covers around a thousand kilometers. It is usually split into five parts; Gwadar Coast, Lasbela Coast, Karachi Coast, Thatta Coast and Rann Of Kutch. This long coastline touches the Iranian border near Gwadar in the West and reaches up to Sir Creek in the East. Apart from two coasts which have major seaports, the coastline is generally very less populated. Nonetheless, small fishing villages appear sporadically.
However, due to lack of modern living conveniences, the settlements have not yet disturbed the natural order of things at most beaches. This creates unique tourism opportunities in the country. Beach tourism fused with serenity is a global rarity. Here is a list of some unique beaches in Pakistan. This list includes beaches that still require active development. However, these beaches have immense potential for tourism given a push in the right direction.
Clifton Beach – Karachi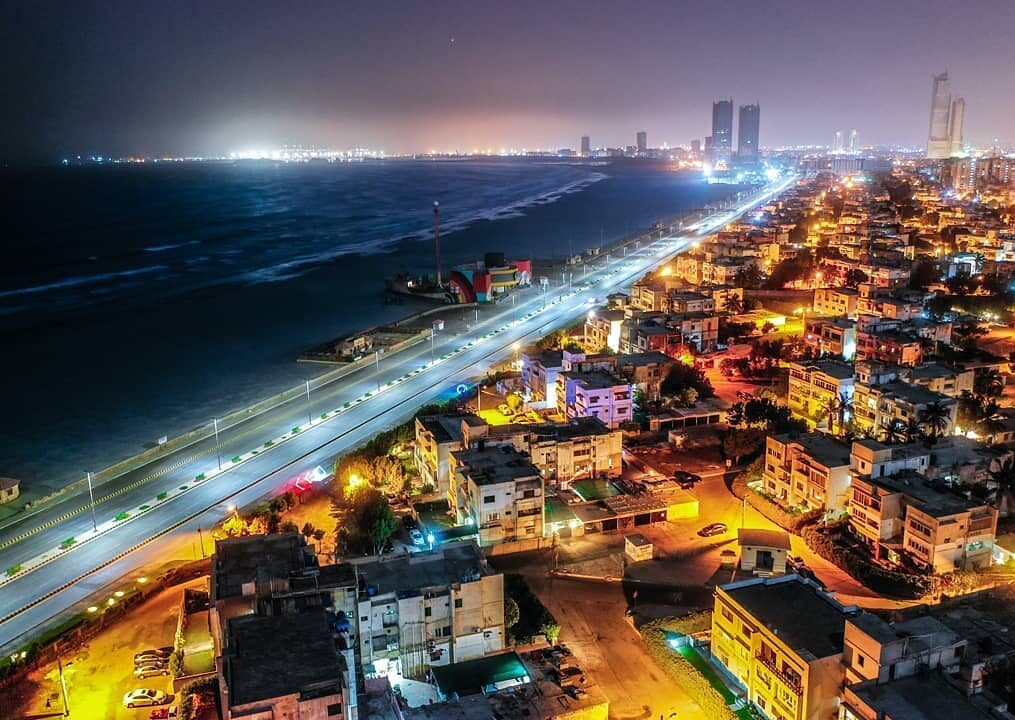 Clifton beach has to be the most crowded beach of Pakistan. Commonly known as "Seaview", this beach is a commercial hub by itself. A robust and an ever-growing residential area surrounds the beach, which makes Clifton beach one of the most accessible and developed beaches of Pakistan. Unlike other beaches in Pakistan which require a proper planning and a designated day for your beach visit, Clifton beach strips you of all those requirements and gives you the opportunity to just go to the beach, have fun and come back.
Like most beaches in Pakistan, traditional beach activities like camel and horseback riding, kite flying and beach buggies are obviously very easily accessible from this beach. Apart from these, visitors also have the option to visit A.K.Khan Bin Qasim Park and Beach View Park. A national monument by the name of "Nishan e Pakistan" is also located right next to the A.K.Khan Park. Bahria Town Icon (The tallest building of Pakistan) is also being erected right next to the beach and it will be a sight to behold once finished.
There are many nearby restaurants and cafes where you can dine and unwind after a physically taxing picnic day. You have many options of malls and shops to spend whatever energy and money you have left.
Cape Mount Beach – Karachi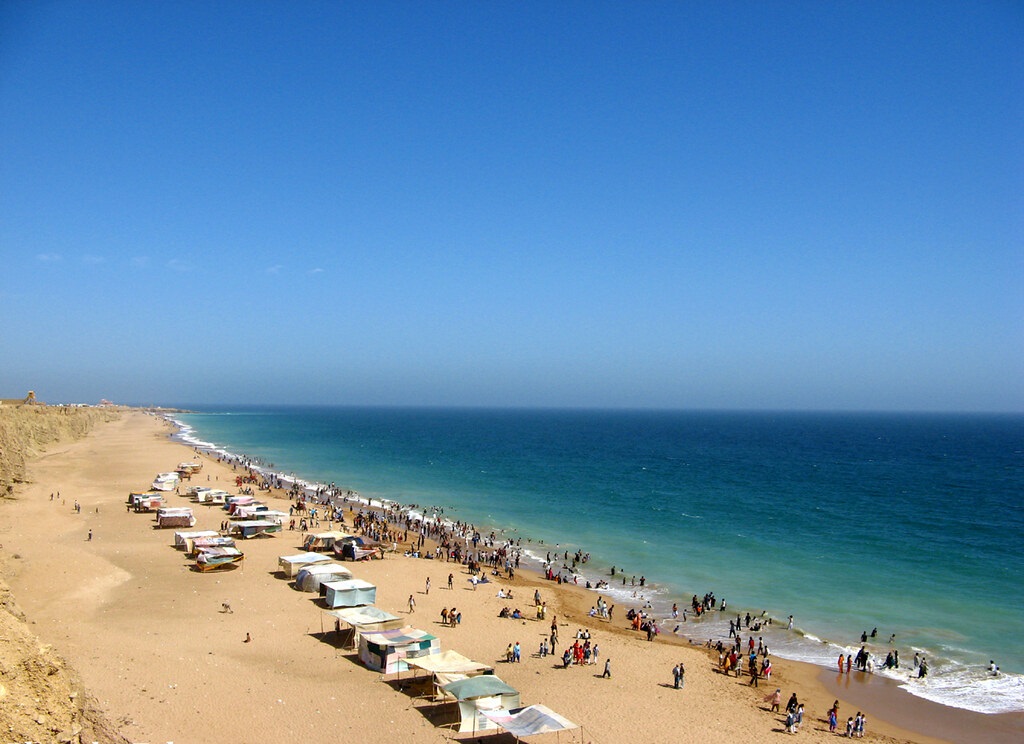 Originally named Cape Monze, Cape Mount is in fact, a headland that connects Karachi's mainland to the Arabian Sea.  It is located at Karachi's South West boundary. Since it is far away from the metropolitan city, the drive to the beautiful picnic point is simply stunning. To get to Cape Mount beach, you need to drive through a network of beaches. These beaches (including Hawk's bay and French beach to name a few) connect to the city of Karachi. The beach is, as intended by nature  and provides an exquisite location for beach activities.
Regular and traditional beach activities such as camel and horseback riding, beach buggies and ATV racing are easily available at the beach. Apart from that, some sensational boating opportunities are also available. The water is very clear at this beach. It supports a healthy ecosystem for a number of species of plants, reptiles, fish and marine mammals. If you are in luck, you will be able to witness turtles shoring for nesting season, pods of dolphins swimming alongside your boat or even whales if you dare to venture towards deep sea water.
Astola Island – Balochistan
Astola Island is also known as Jezira Haft Talar or Island of the Seven Hills. It is an island near the coast of Pasni. Astola is Pakistan's largest offshore island. The island is more or less uninhabited since the only access to the island is via a 5 hour long motorboat ride. Perhaps, this is the very reason that beauty and tranquility of the island is intact. In fact, Astola is declared as the first Marine Protected Area of Pakistan.
Apart from clean and calm waters, the island offers a network of caves and crevices for extreme sports enthusiasts. Cliffs on the Northern end of the island also provide great opportunities and locations for cliff diving as well. A government installed lighthouse and a mosque dedicated to a Sufi saint also occupy the island. The island hosts a variety of species of sea turtles and breeding water birds,
Ormara Turtle Beaches – Balochistan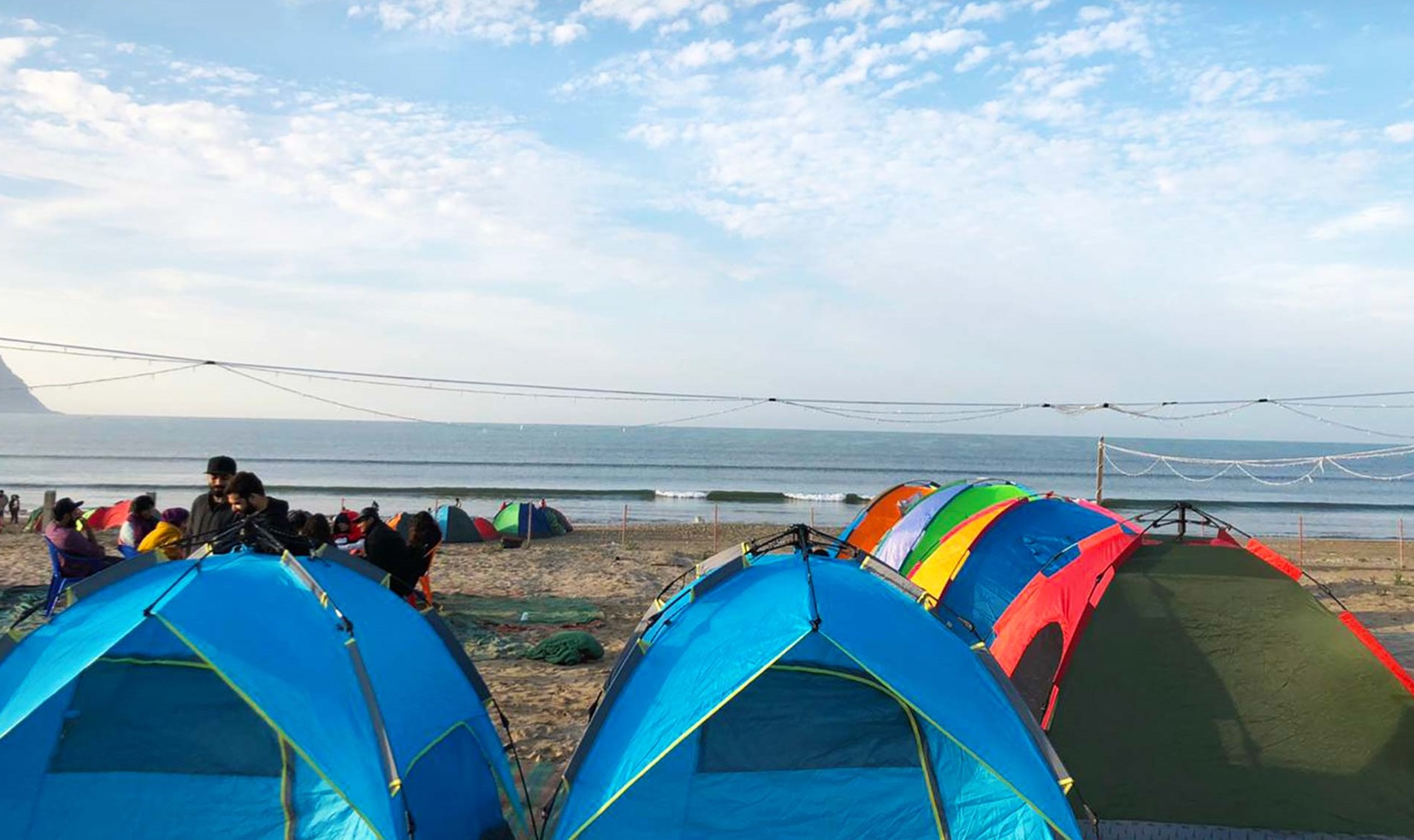 Ormara is a small port town located at the coast of Balochistan. The drive to Ormara is a scenic journey in itself as it covers a wide array of landscape on the National Coastal Highway. The beach (also known as hammerhead beach due to its shape as seen from aerial view) is sandy and spread roughly 10 kilometers wide. There is a naval base nearby hence, the maintenance of the beaches is top notch.
These beaches are specifically famous for being one of the largest nesting grounds for a variety of species of sea turtles. This area is protected by government as a Ramsar site (protected wetlands). Hence, the secluded surroundings with clear and calm waters provide the perfect conditions for the turtles to arrive during their nesting seasons like clockwork.  Witnessing turtles nest on a beach is a unique experience which connects you with nature and makes up for amazing photos. Apart from that, surfing, guided snorkeling and scuba diving facilities are also available near the beach.