Dawn has done it again. With everyone arguing over what CPEC was and wasn't, it was Dawn that somehow got it's hands on the China Pakistan Economic Corridor's 'Master Plan' and leaked out it's details to the rest of us. Although there are ambiguities and contradictions still, but we do know a lot more about CPEC than we did a week ago.
The China Pakistan Economic Corridor is supposed to be the grand old plan that will change the country's fortune – or that's how it has been pitched for the last three years. Fortunately for us, the good folks at Dawn got their hands on the CPEC Master Plan, a 200-plus page up-to-date document that runs through the strategic goals and action plan for the joint initiative.
Needless to say, CPEC sounds little more than an excerpt from John Perkin's "Confessions of an Economic Hitman", a case of exploitative economic colonization disguised as 'developmental assistance and investment towards a poorer ally'. Here are a few key points that we feel you should know from the new leak:
Agriculture forms a huge part of the CPEC strategy
This is one area most of us missed. China's basic goal from CPEC is the economic actualization of one of it's most undermined areas, the Xinjiang Uygur Autonomous Region. One of it's primary concerns is to tap into Pakistan's agricultural potential. China aims to utilize cutting-edge agricultural technology and research with regards to machinery, seeds and irrigation in reaping the full benefits of the province's agricultural portfolio.
As per the report, one of the main areas that lag behind are the lack of storage facilities. China seeks to overcome this with the establishment of storage facilities during all stages of the production and supply chain. This will lessen the wastage that occurs each year due to lack of storage facilities.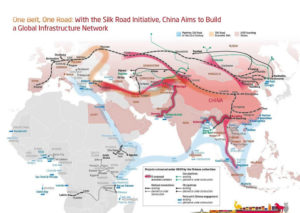 Visa-free entry for Chinese citizens, not so much for Pakistanis
China seeks visa-free entry for it's Chinese citizens in a bid to promote it's economic  and tourism interests. The irony here is that reciprocal facilitation for Pakistani citizens is not offered.
Dissemination of Chinese culture through a new fiber optic link
China seeks to develop a fiber optic link from Gwadar leading towards the Khunjerab Pass (via Sukkur – Islamabad) which will not only alleviate western China's huge needs but will make the transmission of Digital Television Terrestrial Multimedia Broadcasting (DTMB) possible. Amongst many things, the document states that DTMB will enable Chinese culture and values to be disseminated throughout Pakistan.
For those who are aware of China's lockdown on Islamic culture in the Kashgar region, this should be taken with more than just a pinch of salt.
Developmental of a coastal tourism industry in Gwadar and Karachi
The Dawn article paraphrases that dual vision of "yacht wharfs, cruise home ports, nightlife, city parks, public squares, theaters, golf courses and spas, hot spring hotels and water sports" across the Pakistani port areas. While this may seen like an excerpt from the Great Gatsby, there is little to doubt that the well off and affluent of western China are looking at Gwadar and nearby coastal areas as alternatives to the eastern Chinese waters.
The benefits are obvious for tourists and businessmen alike: the Indian Ocean is in a much more geocentrically important area than the Eastern China.
Invest with caution, my Chinese brethren
CPEC is not supposed to been as a certification from the Chinese government to it's people, or so goes the theme with regards to it's disclaimer to Chinese firms and private investors. The CPEC master plan clearly elucidates the socio-political realities of the country and warns investors to take full caution while treading on any uncharted territories.
Some of the risks that it warns against (and to be honest, understandably so) are extremely high inflation (which will diminish any far strung profit assumptions), the tumultuous security situation and interestingly, the fact that there are too many ideologies, races, religions, cultures and subcultures in the country to predict any long term socio-political stability.
Turns out, China isn't pulling any freebies when it comes to CPEC. Thanks for the clarification, big brother.