One look at Shawerma Plus (based in Waterloo, Ontario) and you can tell this is not your average shawarma place. For one, they spell it shawerma (with an 'e') rather than shawarma. But the unique attributes of this growing restaurant chain go well beyond the spelling.
In the last twenty years or so, shawarma has caught up with Pizza and American fast food staples such as burgers and fries in the quest to be labelled as the world's most popular food. It comes in a number of variants, including Donner kebabs, pita rolls and wraps among others – but the end product is pretty much the same: a bunch of ingredients rolled up in a flatbread alongsidean array of sauces.
But despite all the creative offsprings that we now see all across major North American metropolitans like New York and San Francisco, the traditional shawarma remains very much a middle eastern affair.
Keeping It Simple
So how does one differentiate between a good shawerma and normal one? If you ask Jawad Ghabra, the owner of Shawarma Plus, it is very much a combination of years of learning mixed in with the right philosophy: fresh ingredients, top-grade halal chicken, and no shortcuts.
This is where so many shawarma places get it wrong. In order to create their own version of the Mediterranean classic, you can usually expect an experience where there is more madness than method. Not only can this backfire greatly, it also runs the risk of permanently alienating clientele that are not used to middle eastern / Mediterranean flavors.
A good shawarma, as Shawerma Plus illustrates, needs to have it's core right: tender, flavourful meat may seem like something that expected, but you would be surprised that almost 80 percent of shawarma places get this part incorrect. Bland or dry meat has been the death knell for many a shawarma. Another important ingredient, as Jawad highlights, is that the sauces need to be authentic and ideally homemade. When you use ultra-processed off-the-shelf sauces, not only does it jeopardize the end product's flavour, but it makes it an unauthentic experience. You do not want that.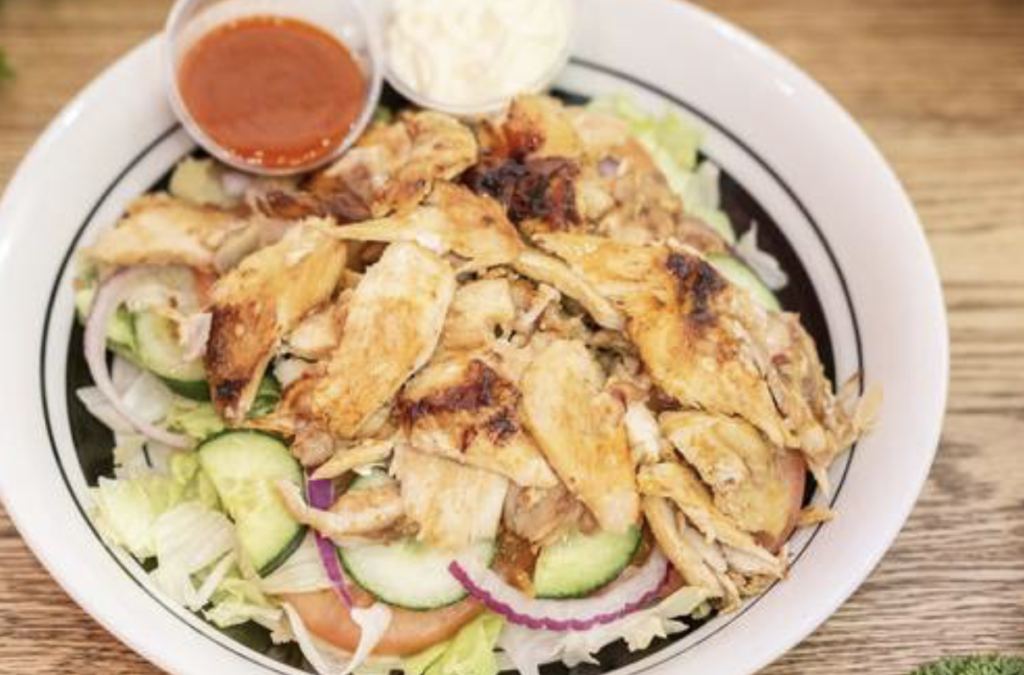 Getting the 'Shawarma Mix' right
You may have heard of the marketing mix – all of the key components of launching or positioning a product successfully in a market. But there is also a shawarma mix. If you following the key guidelines of the shawarma mix, the worst case scenario is that you will create a shawarma wrap that is fairly eatable. The best case scenario: you just might create a masterpiece. Here are the essentials where we feel Shawerma Plus has managed to outdo so many of it's vaunted competitors (we are looking at you Halal Guys).
Oil: Don't over do it. A big greasy shawarma might seem heavenly comfort food for the first few bites, but by the time you are done, you will never want to look at it again.
Flavor: Dont shy away from flavor. Be open options for all types of taste buds and spice levels.
The veggies: They must be fresh, and ideally, locally sourced. And by the way, did we mention they have to be fresh?
Sauce: Ideally homemade, not shy of providing an extra tinge of flavor.
The Meat: Needs to be succulent, tender, soft without being chewy. Ideally halal, because if you didn't know – halal meat just tastes better. No compromise in sourcing.
The Presentation: A great shawarma without good presentation is no shawarma at all. Make the presentation neat – and try to serve up some fries wherever you can.
Ranked as the best shawerma in the region by over 24 sources including Google and TripAdvisor, Shawerma Plus is well on it's way to becoming a big player in a growing market. It is also a testament to the theory that family-owned businesses tend to offer the best food experiences at the best prices.
As for shawarma lovers like us, we are ready to see brands like Shawerma Plus take shawarma to the next step of becoming the global food.