It is a fact that a country greatly benefits from the exposure it gains thanks to increased tourism in the country. It is a very similar case in Pakistan. As tourism continues to reach new peaks, the country prospers significantly in return. Due to this increase, the world is able to view Pakistan as a peaceful, civilized, and beautiful nation. In relation to this, people appreciate the scenic God-crafted beauty, the rich cultures, and breathtaking locations. It extends to every type of tourist; trekkers, photographers, explorers, campers and more.
While every other activity as a tourist in Pakistan tends to be a no-brainer, people usually question which spots in the country are the safest, well accommodated and provide the ultimate camping experience. 
Before you set your mind on going to the best spots in Pakistan for a camping experience, make sure you are fully equipped with all the things that might come in handy during such an experience. Fortunately, you can do that with a single tap on your phone by utilizing online pharmacies such as emeds to your advantage. 
Overview of the Top Camping Spots 
Indeed, camping is adventurous and, sometimes, you have to muster up the courage to go through with such a daring act. However, that might not be the case in this scenario. Most spots in Pakistan which offer an excellent camping experience are entirely safe and well facilitated. 
Furthermore, we have taken the liberty of curating a list of the top camping sites in Pakistan, so you can be aware of your options the next time you are planning a trip. 
Here are some of the best camping spots in Pakistan:
Pir Chinasi

Arang Khel

Siri Paye

Fairy Meadows

Kund Malir 
It is important to note that most of these areas are located up north. However, there are a few scattered in the southern region of Pakistan, as well. Another vital thing to keep in mind is that while camping in good ol' tents is the main attraction, you can also spend your nights in motels, hotels, and glamps. This alternative can be helpful.  
Pir Chinasi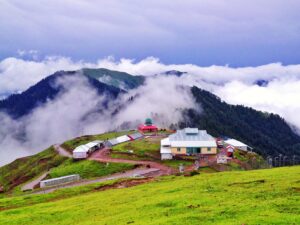 Pir Chinasi is commonly known as the capital of Azad Jammu and Kashmir. It is a hill station that is situated about 30 kilometres from Muzaffarabad. The camping area is at the height of 9,500 feet above sea level. Moreover, the hill station is just one of the examples of the famous beauty Jammu and Kashmir possesses. The visually pleasant plains of the hilltop paired with an eagle's eye look of the stunning Muzaffarabad city is simply magnificent. 
Pir Chinasi is most often dwelled by devotees of Saint Shah Hussain Bukhari – his tomb is in Pir Chinasi. The optimal time to visit Pir Chinasi is between the months of June and September. Also, it is wise to carry your own camping gear. 
Fairy Meadows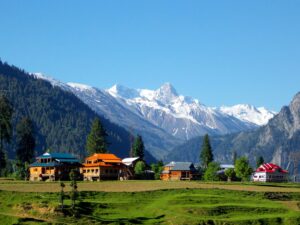 Fairy Meadows is regarded as one of the hidden gems of Pakistan. It showcases spectacular views of the Nanga Parbat Peak as it is located somewhat nearby the base camp of the Nanga Parbat. Also, Fairy Meadows is a well-known enticing location for any adventure-seeking, adrenaline-junkie visitor. The meadows are not everyone's cup of tea, though. It is a fairly dangerous journey just to get to the base camp since the meadows are situated at an elevation of 10,800 feet above sea level. You can reach Fairy Meadows via a hike from Raikot Bridge, which is approximately 80 kilometres from Gilgit. 
Siri Paye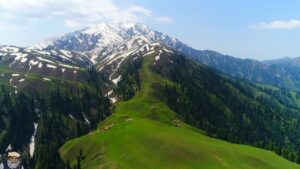 Siri Paye is located at a fair distance of about 8 kilometres from Shogran. Siri Paye consists of two locations: Siri Lake and Paye Meadows. These two destinations are on a potholed hike up the mountain. Although the lake comes sooner, campers tend to go in the direction of the meadows, which are at the top. The meadow is approximately 9,900 feet above sea level. Similar to other areas of KPK, it is advised to visit the campsite during the months of July to September.  
Camping at Paye Meadows is essentially very easy. It is almost a breeze compared to Fairy Meadows due to the fact that basic facilities are readily available. The only tricky part tends to be the weather as it, reportedly, changes very quickly. The bipolarity of the weather could be bad for your tent, so make sure the one your tent is reliable. 
Kund Malir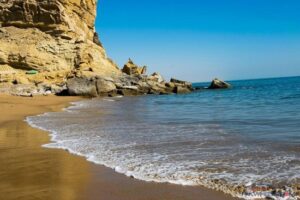 Kund Malir is the most suitable option for camping – if you want to camp in Balochistan. It is a beach found next to the Makran Coastal Highly. It is located within the Hingol National Park. Since the elevation is merely 115 feet above sea level, it is also suitable for families with kids. It does have surrounding cliffs that look simply elegant against the beautiful backdrop of a sunset. The crystal blue waters, starry skies, and soft breezes – Kund Malir is a dream. It is located nearly 200 kilometres from Karachi.
The weather in Kund Malir, Balochistan, is perfect for a trip between February to April or even September to November as the other months are too cold or too hot. 
Arang Kel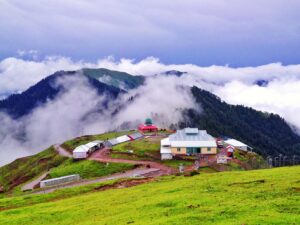 Last but not least, Arang Kel. The beautiful campsite is located roughly 20 kilometres from Sharda in the Neelum Valley. The views and plains of the campsites are unmatched. It is a bit challenging to reach as compared to Kund Malir. This is due to its height of 7,800 feet and the tough route. There are breathtaking forests, meadows, hilltops and clear waterfalls in Arang Kel. 
You can start your journey to Arang Kel in the small tourist town of Kel. Then, you can either hike to Arang Kel or take a chairlift over dusky forests.
Several options are available for an overnight stay when you reach Arang Kel. These options consist of guesthouses, tents, and motels. Also, you can easily seek out basic necessities. However, it is better to carry your own campsite essentials.