To the extent that eating out goes, Lahore is triumphing to date. If you are an early bird, Lahore is overloaded with awesome breakfast options at every nook and corner. Nonetheless, if you cannot leave the comfort of your bed on Sundays and want a meal after waking up late, Lahore has the best solutions for you too.
Indeed, there is an odd meal that is not breakfast nor lunch but the perfect combo of both. What's it? 'Brunch'! Yes. Lahore, the city of food and lights has the most mouth-watering Sunday brunch selections. Whether you want top-of-the-class, boutique-style restaurants or common economical eats, we have got you covered.
From perfect ghee-greasy spoons to aromatic desi buffet menus and even upmarket eateries, here's our guide to Lahore's top 7 brunch spots.
Amu's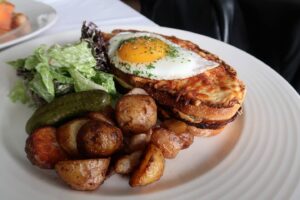 Everyone is familiar with the glorified, yet hidden and 'doesn't want to be found' eatery in Lahore. Keeping in mind the high-end price, luxurious menu, and fashionable complex, Amu's is an authentic fine dining experience for the ones who prefer class over everything else.
Indeed, thanks to the master chef, Shahnawaz, everything on the menu is homegrown, handpicked, and cooked for the most lavish experience. The menu boasts various stylish and out-of-the-box selections including roasted plum tomato soup, yellowfin Tuna, New York Striploin, etc.
You should visit Amu's for an intimate, exclusive experience with your better half. Moreover, remember you are paying for the chef's unique style of cooking and his creativity and not for a hearty meal. The portions are small, the eatery is smaller and the ambiance is relaxed and serene. However, if you plan to go for a loud meet and greet Sunday with friends, Amu's might not be the best option.
Ps: Children are allowed. Which in my opinion is a major plus point considering how high-end restaurants work.
Contra Coffee Gulberg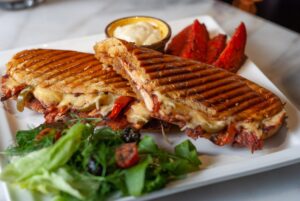 Another hidden gem recently discovered in the heart of Gulberg Lahore is none other than Contra Coffee. Blessed with beautiful sunlight through the large windows, outdoor seating as well as rooftop availability, Contra Coffee is home to an exceptional brunch menu. Do you like your brunch English, stylish and light? This place is perfect for you.
The selections include Croque madame Bien Sur, sourdough bread layered with beef brisket, flavorful macaroons, egg recipes, fresh fruit salads and so much more. Moreover, choose your favorite from Ice Cream Frappe, Cold Brew Coffee, Cappucino, or Blended Bulletproof Coffee with MCT oil, this eatery has got your back.
English Tea House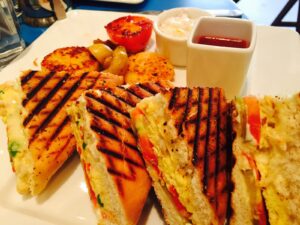 No more lazy Sunday mornings because you have English Tea House to keep you company! Interestingly, the name says it all but if you must know, you can choose from freshly baked croissants, various omelets, eggs Benedict, cereals, continental Danish pastry, sandwiches, fruit cups, and more.
The taste is great, the prices aren't too high and the entire experience is definitely worth a try. Interestingly, you can either sit indoors and enjoy the music and the beautiful décor, or you can choose to relax in an outdoor setting and benefit from the summery windy weather.
Eggspectation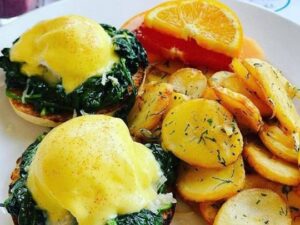 The one thing better than brunch? Brunch with fresh seasonal juice! Interestingly, this is where Eggspectation comes in. This amazing spot located in Main Gulberg serves freshly hand-squeezed orange juice, grapefruit juice, apple juice, and carrot juice.
Moreover, you can always order their special lemonade and benefit from a huge range of smoothies and berry blends to compliment your breakfast menu. From tropical paradise to tropical teaser, what's a better way of loading up on vitamin C than this?
As far as the main menu is concerned, it's 'Eggseptional'! You can expect Southern-inspired fluffy omelets, Benedict and beyond, baguettes, brioche, and flatbreads in various flavors. Additionally, you can also relish scrumptious pancakes, French toasts in different flavors, fruit salads, sausages, onion rings and so much more.
The prices are too good to be true while the atmosphere is perfect for the younger crowd.
Capri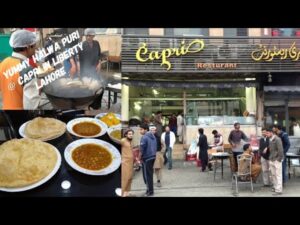 We don't really know about you, but nothing quite gets us through the day without having a mighty Lahori Desi feast! Yes, since Lahore is famous for Tarka special, masaley-dar food, nothing beats Capri in Liberty market. In particular, this food joint dates back decades, however, the recipes and tastes are still on point.
The super-duper Desi Nashta includes the classic Halwa Puri and Cholay, Nihari, Qeema fry, spicy chicken entrees, and more. However, if you are a Lassi lover, their recipe rocks beyond expectation and you should definitely check it out.
Bundu Khan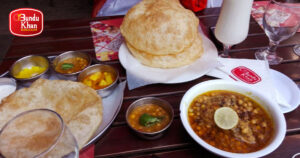 If you are a real foodie, you cannot skip Bundu Khan. In sum, their desi nashta totally wins the bet every time because of its incredible menu. Open from 9 am onwards, Bundu Khan serves Murgh Channay, Desi Murgi, Paye, Nihari, Qeema Pura, and Brain Curry. In fact, their halwa puri and channay are finger-licking awesome.
Fortunately, the brunch menu price is perfect for your budget. Interestingly, one person can lavishly dine within pkr1200 without breaking the bank. Check out their outlet in Gulberg 3 and enjoy a hearty meal.
Spice Bazaar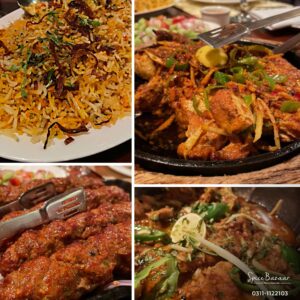 What sounds better than a brunch buffet? Spice Bazaar spices up weekends by offering an over-the-top buffet starting from 10 am lasting till 3 pm on Sundays.
Their breakfast essentials include a live egg station where you can enjoy hot, freshly made eggs of your choice. Whether you want a boiled, half-fried, sunny side up, full fried egg, or an omelet, your wish is their command.
Moreover, you can also relish their live pancake station for fluffy, hot steamy pancakes to tantalize your taste buds. Other than that, they offer various BBQ options including Lahori Fish, Murgh Angara, Kebabs, Mattar Qeema, Sindhi Biryani, etc. Nonetheless, you can always choose to enjoy traditional desi delicacies like Nihari, Paye, Halwa puri, Aloo Bhujia, and more.
As far as the drinks corner is concerned, they have got you covered with salted or sweet lassi as well as seasonal juices. Behold and check out their awesome dessert menu too! Dig in deep for Gulab Jamun, Gajar Halwa, Trifle Chocolate Mousse, Puddings, and more.