23rd May 2017, Avari Towers, Karachi: Women of all ages are concerned about their skin's beauty and youthful appearance. Skin ageing is governed by our body's biological clock and accelerated by pollution, stress, UV light amongst other factors.
Today, women who use rejuvenating treatments are encouraged to undergo medical procedures and choose skincare products from highly specialised brands. Remedies like Bot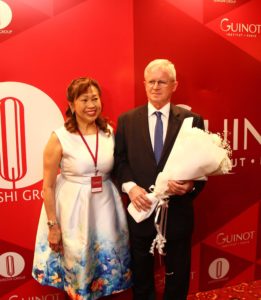 ox (Hyaluronic Acid) and Skin Peel (Dermabrasion) are all highly publicised methods with highly promising claims.
These are in fact expensive and painful and can only ensure short-term results; others provide visible results but only after several weeks of constant use.
Peng Qureshi, the owner of Peng's Hair and Beauty Clinic is bringing to Pakistan what he claims to be ' a revolutionary machine to rejuvenate the face by GUINOT. It supposedly gives immediate results, is painless and most of all, is affordable on any budget.
The Launch of the new machine was held at the Khursheed Mahal at Avari Towers in Karachi, where the guests were shown live demonstrations of Hydraderm's two signature treatments; The Hydraderm Youth Treatment visibly rejuvenates the skin while the The Hydraderm Lift Treatment visibly rejuvenates facial features.
French Ambassador Mr. Francois Dall'orso was the guest of honour at the occasion. Other guests included Zhalay Sarhadi, Zoe Viccaji, socialites and salon owners in Karachi, who all came in full force to see the live demonstration of what the company claims to be a revolutionary product.
The Hydraderm is now available at Peng's Hair and Beauty Clinic. Peng's, established in 1979, is one of the most popular high-end salons in Karachi and is accredited as a GUINOT certified salon.