We will miss you Chintu Ji! CurryFlow writer Miysha Usman remembers Bollywood legend Rishi Kapoor.
Rishi Kapoor, the iconic veteran actor, breathed his last on April 30, 2020. Death is, unfortunately, a sad reality of life and all of us must embrace it at some time. While he may have suddenly left us all, that definitely is no reason to forget him or to stop celebrating his accomplishments.
Unlike others in Kapoor family, Rishi Kapoor began his career in his adolescence. Interestingly, he won the National film award for the 'Best Child Artist' for his first film. I mean, wow! Then came along amazing Bollywood movies and almost all of them have left a lasting impression on us. Furthermore, perhaps one of the most appreciable traits of his character was the way he was able to seamlessly adapt to the role he was playing.
Behold Rishi Kapoor fans. Here's taking a trip down memory lane and sending love and prayers to the dearly departed.
Hum Tum Ek Kamray Main Band Houn!
Rishi Kapoor entertained the masses for decades, generation over generation with this song and it still has not lost its charm. Some iconic songs from the era of his youth have become legacies and 'Hu tum ek kamrey mein band hon' is no exception. Epic would be the right word to describe it! Not only are the lyrics sensual, passionate and romantic, but the vulnerability portrayed by the young Rishi Kapoor is something we are in awe of till this day.
Each year songs are produced in humongous numbers, but only some of them manage to traverse time the way this song has done.
His Style Quotient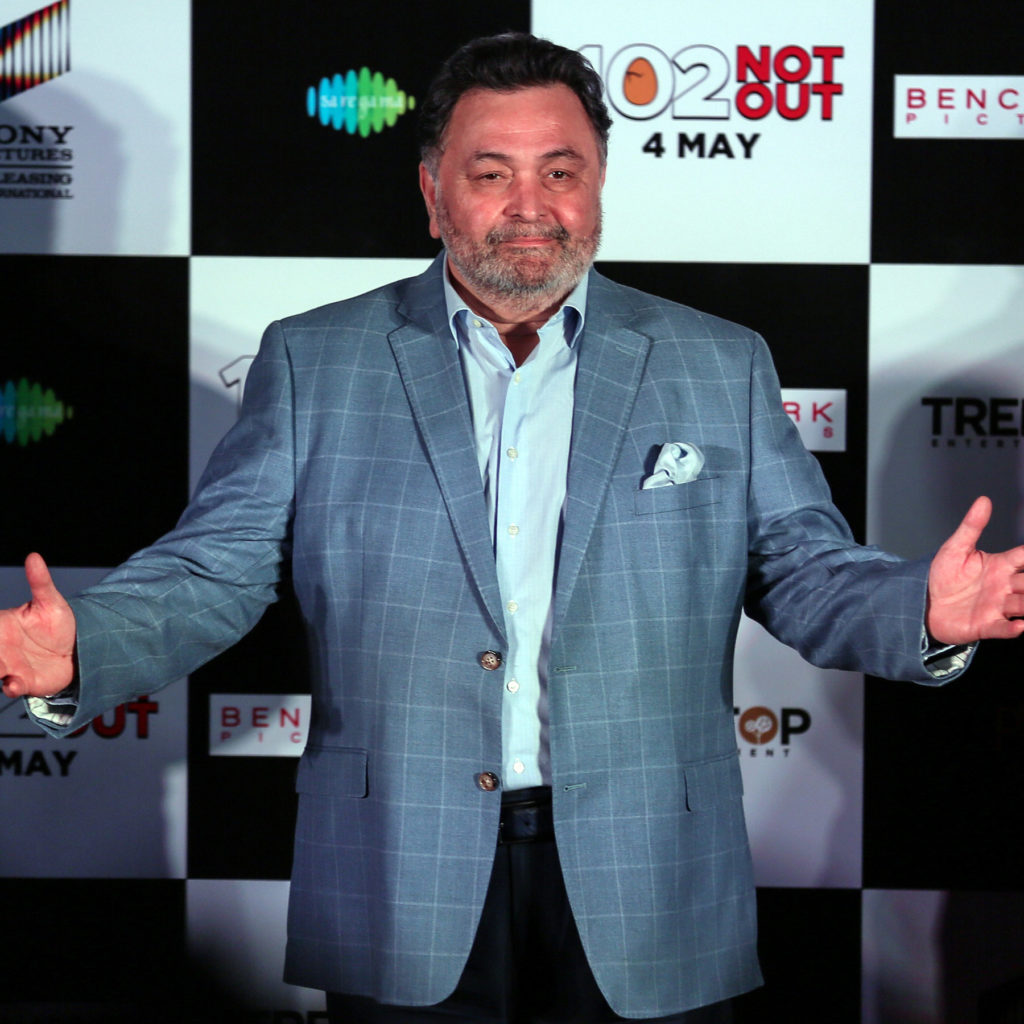 Yves Saint Laurent rightly said, "Fashions fade, style is eternal". This quote fits like a sleeve on the magnanimous personality of Rishi Kapoor. He frequently dressed in a suave manner with elegant suits. The picture above illustrates this perfectly: Rishi Kapoor looks timeless. The open collar, the suit, the colour combo – all hint at a gentleman well in touch with the prevailing trends. Whoever is in need of fashion advice, digging up pictures of Rishi Kapoor will definitely be a good idea!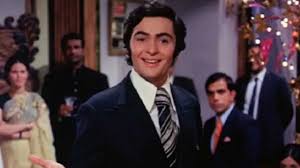 Doesn't he look super cute in this picture?
Mera Naam Joker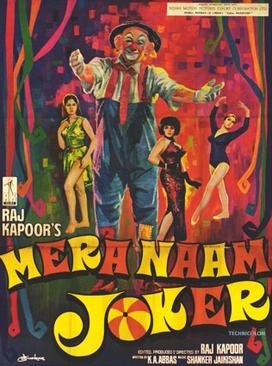 Rishi Kapoor started his career with a heartrending performance as Raju in Mera Naam Joker. The 5-hour film is considered one of the most storied in Bollywood history. Today, the film is being remembered as the vehicle through which Rishi Kapoor stepped foot inside the industry which became his second home for decades to come.
Interestingly, it wasn't as initially well-received as one might have thought. Critics complained about the length of the movie and the plot which was largely experimental. It went on to become a commercial failure.
However, like the pearl that comes out of its shell polished, bright, and shiny, the movie later came to be hailed as a cult classic. It is also considered as one of the best performances given by Rishi Kapoor. Given, the astounding performances he has delivered throughout his career, that's definitely saying something. Now, this movie will be cherished even more.
Do Dooni Chaar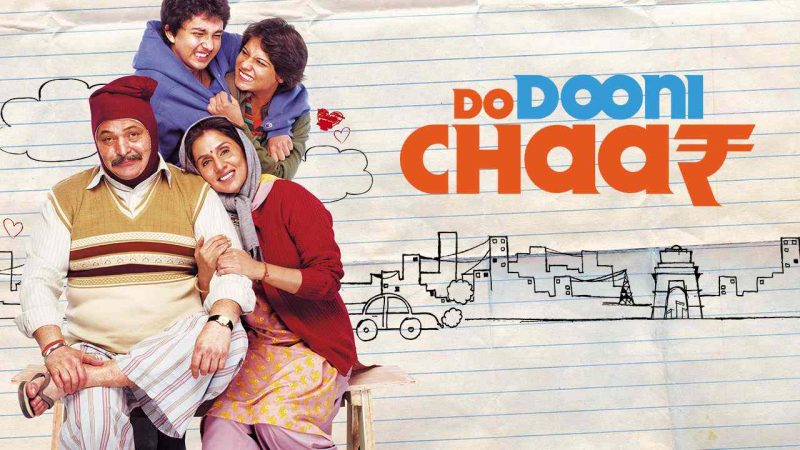 Perhaps the most memorable thing about Do Dooni Chaar is the fact that Rishi Kapoor and Neeti Kapoor came together as an on-screen couple after about three decades. It was really cool! Needless to say, the fans swooned. The storyline was immensely relatable. Who here does not want to strive in every way possible in order to provide their family with a better life?
The character played by Rishi Kapoor in this film follows the struggle of a mathematics teacher, to ensure his family is able to live a better life. Further, it also shows the evils that can befall a person who tries to live beyond his means. In the movie, crooks who believe that grades can be bought to target the teacher. An amazing movie that kept the attention of the audience entrapped until the very last minute.
Kapoor & Sons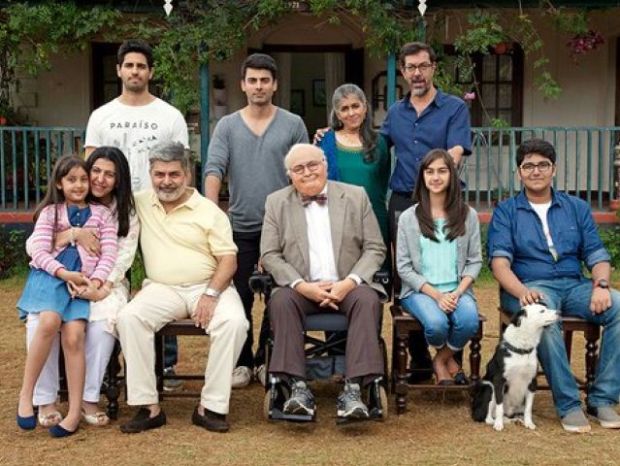 Kapoor & Sons just ticks all the right boxes for me! Not only is the cast truly impeccable, but the characters assigned to each task are just perfect. From Alia Bhatt playing the part of a carefree young girl, to seeing Rishi Kapoor in prosthetics for the second time in his life, What a film it was! Moreover, for the second time in his life, he truly nailed it!
The movie hinged on bittersweet nostalgia, showing the perfection of an imperfect family. It is one of the movies which can be seen again and again without being bored. Too much drama, I tell you.
Agneepath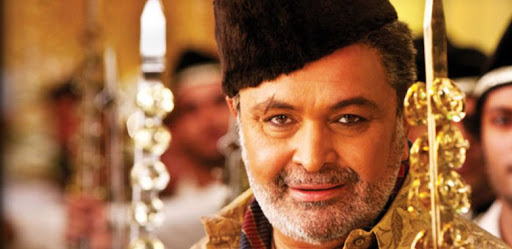 Agneepath is a tribute to the inherent versatility that Rishi Kapoor has displayed in his acting. The stellar performance cast him in the role of a tyrant. I for one could never have imagined that an actor with the appearance of a cuddly uncle could have forged so seamlessly with an evil role.
Moreover in my opinion, Rishi Kapoor definitely added hundreds of names to his huge fan base by playing the perfect villainous act. His kohl-lined eyes, the traditional 'Bhai log' choker, and his rugged shalwar kameez totally stole the show. However, his expressions were exemplary as they totally dripped venom. This particular performance of his proved beyond the shadow of a doubt, that he can take up any role he sets his mind to.
His Bond with Karishma Kapoor
It might sound like a weird thing to miss. Nonetheless, it was extremely difficult to digest the passing of 'Chintu jee' for the whole Kapoor clan. Believe it or not, Karishma Kapoor was very close to her uncle. Pictures posted on social media by Karishma Kapoor reminiscing about the way Rishi Kapoor being a constant and loving presence in her life, strikes chords of wistfulness now.
Now that he is gone, there will be a gaping hole, making us all miss Rishi Kapoor and his adorable pictures with his niece. Lovingly called 'Chintu uncle', his mere existence was cherished by his loved ones.
His Wholesome Presence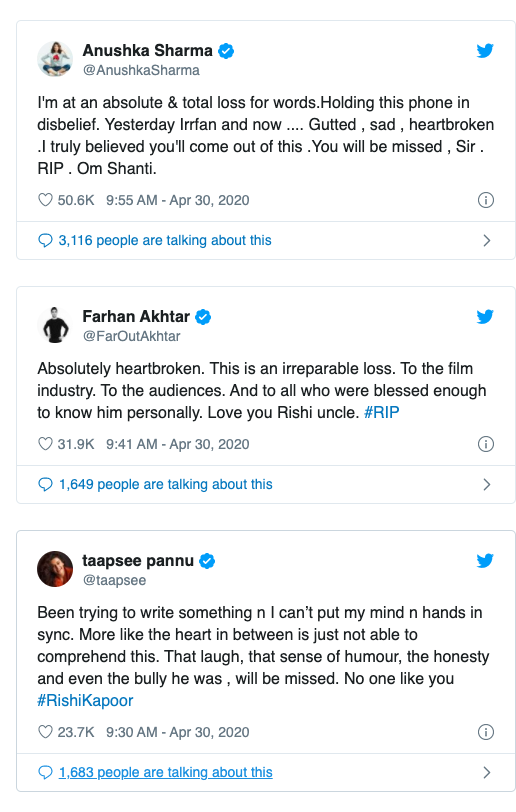 Rishi Kapoor was loved by millions. What is truly amazing is that people from all over the Bollywood industry as well as the Pakistani media industry are now withering away in remorse at his passing. The ways in which his memories are being recalled by many of his colleagues and acquaintances makes it evident that he was loved by all who knew him.
Of course, Pakistani celebrities did not remain far behind in celebrating Rishi's charm.
His Thumkas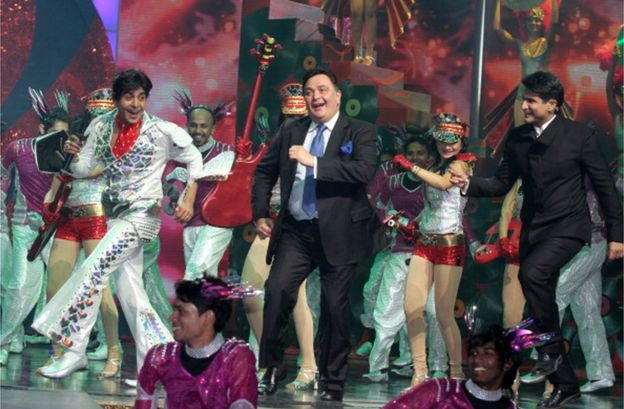 Bollywood is an industry that is fraught with dances at every turn. Rarely, if at all, will a movie be produced this doesn't have dances included in one manner or the other. Even the most somber of storylines will incorporate dances in some sneaky way.
When it came to dancing, Rishi Kapoor managed to always provide an endearing performance. This was true all through his youth, right till his end. The way he danced, his composure and his moves will always bring smiles on the faces of his fans. And isn't that just what every actor desires?
Despite his age, he delivered performances that would put much of the younger lot to shame. All this, done in a way which belied any vulgarity, any cause to grimace at all.
Sense of Humor
Rarely do people have a sense of humor that is so tasteful that others are bound to take heed. Till his last days at the hospital, his sense of humor kept those around him entertained, which speaks volumes about the kind of person he was. Even when he was uncomfortable, pumped with drugs, and losing the long-drawn battle to cancer, he did not succumb to a manner that would make his caretakers suffer. How many of us can honestly say we are capable of doing something like that? Rishi Kapoor was a legend.
Rishi Kapoor at Kapoor Haveli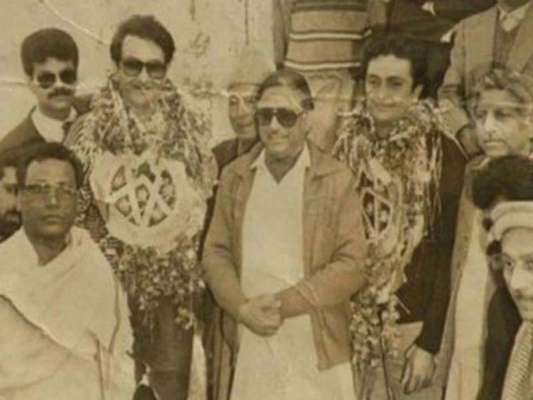 India and Pakistan are rarely ever on the same page. There are political tensions, border issues, and what not. In the midst of all this, not even the stars and actors are spared. They too become entangled in the mesh that is secularism. Rishi Kapoor remained a staunch vocal supporter of the Indian Army during his last years on twitter.
Nonetheless, there are still many artifacts which pay homage to the fact that the countries have bonds which cannot be severed so easily. This picture of a young Rishi Kapoor standing outside the vast and expansive Kapoor Haveli in Peshawar is a testament to sweeter times. There are talks of now converting this haveli to a museum in an effort to preserve it.
Bollywood actors, in fact actors all over the world would do very well to take a leaf out of his book. He has left this world. Yes. But, through the journey of his life, he has also scattered various pearls of wisdom through his demeanor, his personality, his life.
Rishi Kapoor will truly be missed.