Cooking is one of the greatest pleasures in life! Especially more so today, since everyone has been confined to their houses. Therefore, cooking today is a skill that is as essential as breathing!
Therefore, I am going to share a few of my favorite recipes that are simple enough for just about anyone to follow. In addition, these quicks will be amazing enough to totally melt in your mouth! Yum-yum indeed! Try your favorite and let me know!
1. Beef Pasta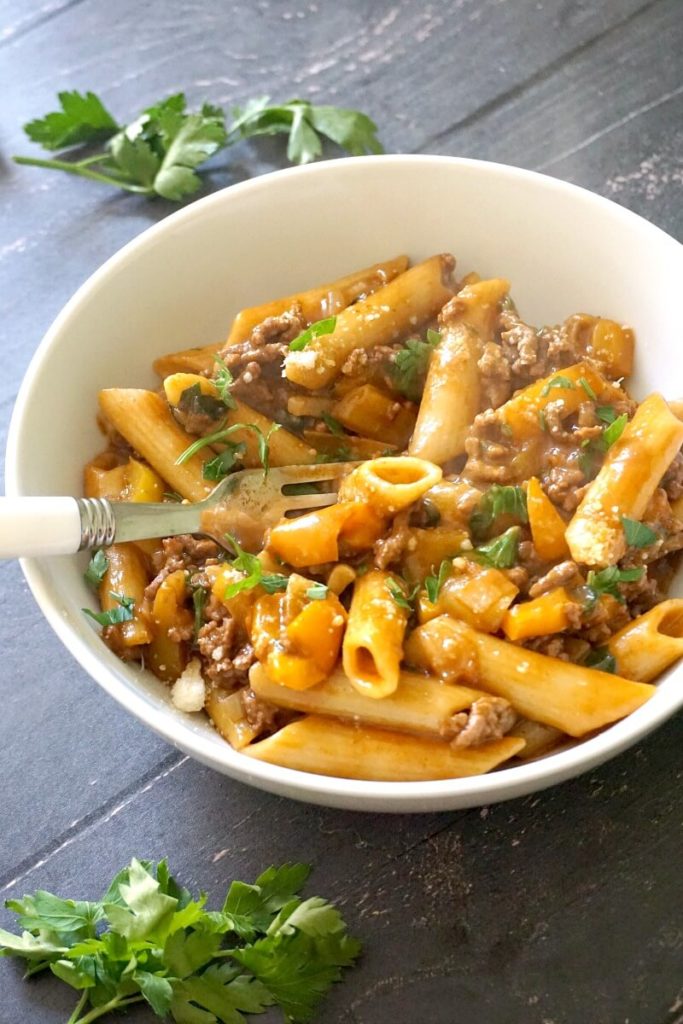 Ingredients:
Vegetables: bell peppers, spinach, onions, coriander. Or pretty much any vegetable you prefer.
Pasta,
Grated parmesan
Cheddar cheese
Seasoning (salt / oregano / crushed red chillies / black pepper)
Instructions:
Easily a winner, beef pasta can be cooked in a skillet. Thus, it comes with the added advantage of not having to scrub a million dishes! The best thing about this recipe is that you have the full liberty of incorporating any ingredients you want. In other words, this recipe can be customized completely according to your taste.
All you need to do is pick your favorite vegetables. Cut them up any way you like and stir fry with a bit of salt, pepper, garlic powder, and oregano. Once the vegetables are done, add minced beef and cook thoroughly. In a separate pot, boil pasta and add it to the beef and veggies. The last step is the addition of spices, (either white sauce or red), as per your own taste preferences.
Voila! a scrumptious dish is ready which is both, healthy and delicious! Top it off with grated parmesan, serve and enjoy!
Remember, Beef Pasta comes in many shapes and forms, so feel free to experiment.
2. French Toast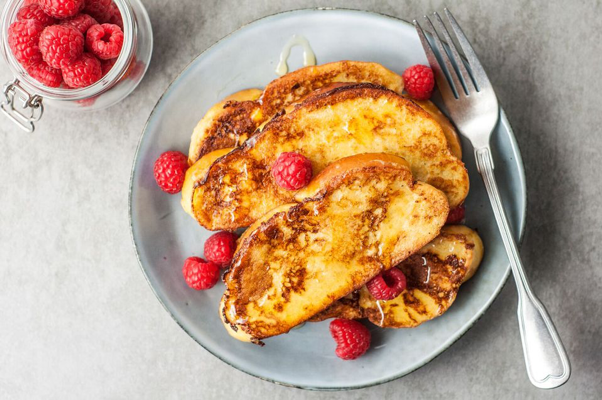 Ingredients:
Egg,
Bread,
Sugar,
Crushed cinnamon,
Dash of milk.
vanilla essence
Instructions:
Whisk 2 eggs thoroughly. Once that is done, the next step is to add a dash of milk, sugar, vanilla essence, and cinnamon. After this, whisk everything again thoroughly. Then, soak the slice of bread in the mixture. While it is soaking, heat up a pan with a little bit of oil. If you're looking to cut calories, use a cooking oil spray instead! When the oil is hot, add the bread to it. Cook from both sides, until nice, crispy and brown from both sides.
Can you believe that's it? This breakfast favorite is ready! Top it off with Nutella, whipped cream or even fruits to enjoy!
Disclaimer: I mentioned breakfast, but it easily tastes as good at midnight as well!
3. Cheese Omelet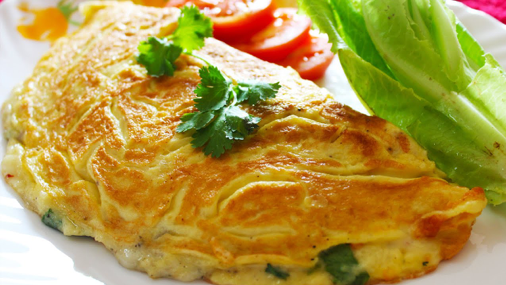 Ingredients:
Eggs,
Grated cheddar cheese,
Grated mozzarella cheese,
Sliced sausages,
Salt,
Pepper,
White pepper,
Hot sauce,
Sliced green chilies.
Veggies (tomato, onion and fresh mint leaves)
2 tablespoon milk
Instructions:
My holy grail! A cheese omelet is one of the dishes whose fame has spread all around the world. And it is surprisingly easy to make. Simply whisk the eggs together, adding all the spices, as per your own preference. Add milk to the mixture. If you like it fluffy, whisk it well and add a dash of baking powder to it.
Pour a teaspoon oil to the pan and heat it up. Then, add the egg mixture and top it off with sliced chilies and sausages. The next step is to cover and let cook on low flame. If you are super hungry and have decided to cook more than one egg, be sure to let the eggs cook through because they will take some time! If health is on your mind, add as many veggies as you want to make it healthier. Otherwise, load it up with cheese and enjoy!
4. Bread Pizza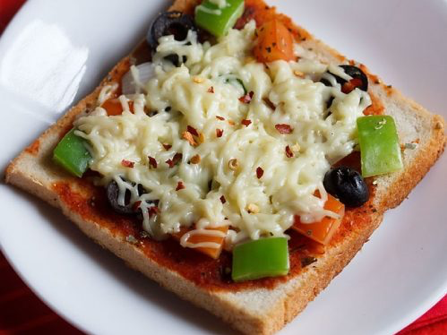 Ingredients:
Bread,
Tomato ketchup (or pizza sauce if it's on hand),
KNN chicken tikka chunks,
Grated cheese,
Sliced onions, tomatoes, olives and bell peppers,
Oregano.
Instructions:
Let's face it, we don't always have the time to wait for pizza delivery (or the cash). This one's a winner, even a favorite with the kids! All you have to do is cut off the crusts of the toast. Smear it generously with the sauce. Then add the vegetables and chicken tikka chunks. Top it off with grated cheese – the more the merrier and sprinkle oregano on it. Pop it in the oven for a bit and there you have it!
I love making these for my family as a tea-time snack!
5. Mug Cake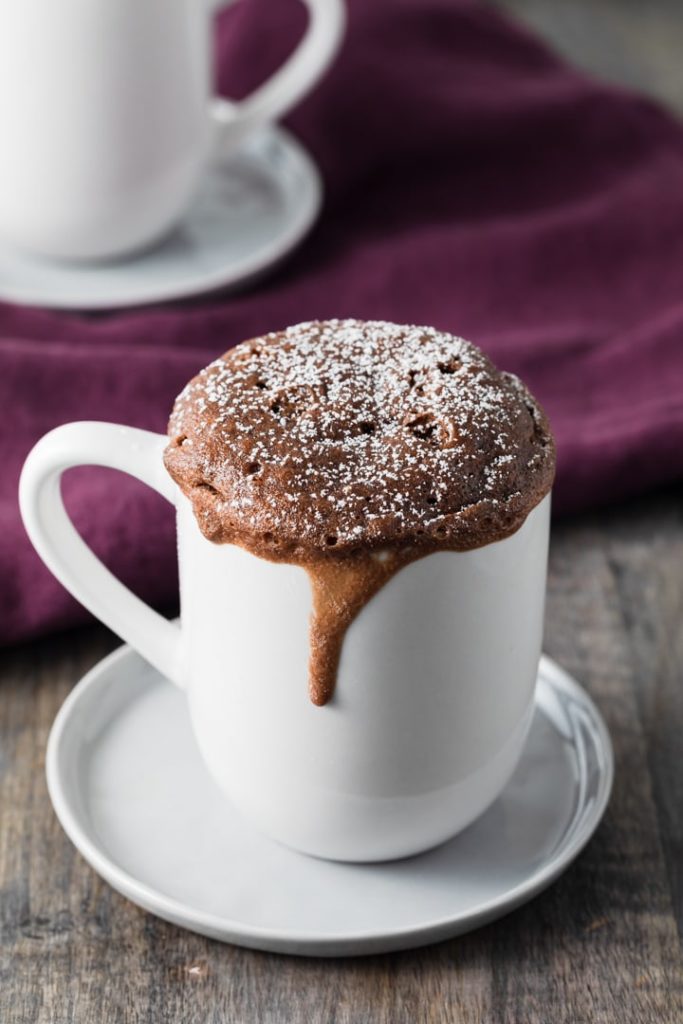 Ingredients:
¼ cup all-purpose flour,
Unsweetened cocoa powder: 2 tablespoons,
¼ cup white sugar,
Pinch of salt,
Pinch of baking soda,
Milk: 3 tablespoons,
Canola oil: 2 tablespoons,
Water: 1 tablespoon,
¼ teaspoon vanilla extract.
Instructions:
Take a large mug which is microwave safe. First, simply add all the dry ingredients and mix them. Then, stir in milk, canola oil, water and vanilla extract. Next, put it in the microwave for about 1 minute and 45 seconds. The cake should be cooked through. This will depend on your personal microwave power settings so make sure to cook for longer or lesser time, as needed. This makes a perfect sweet treat for any time of the day!
6. Egg Sandwich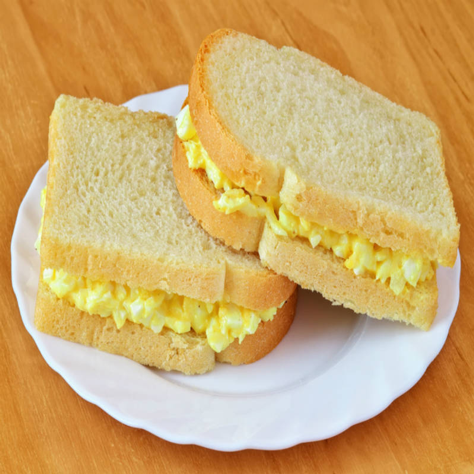 Ingredients:
Boiled egg,
Mayonnaise,
Vinegar,
Chopped green chilies,
Chopped cucumber,
Lettuce leaves,
Bread,
Salt, pepper and white pepper,
Boiled and shredded chicken,
Slice of cheese.
Instructions:
To begin with, mash the boiled eggs with a fork. Once this is done, add all the ingredients except for the lettuce leaves and bread. All the spices are of course as per your individual preferences. Once the mixture is ready, the next step is the assembly. Heat up the bread, and if you like your cheese melted, put the cheese on top to melt it! Put lettuce leaves on the bread, and then the mixture.
Top it off with the second slice of bread. Not only is this particular recipe extremely tasty, but it is also healthy. It is also an easy way in which vegetables can be incorporated into the diet of kids who are picky eaters.
7. Strawberry-Banana Shake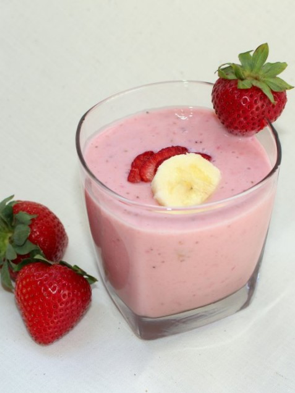 Ingredients:
Strawberries,
Bananas,
Milk,
Sweetener of choice.
Instructions:
In order to make your shake thicker and hence even yummier, one amazing trick is to slice up the strawberries and bananas, and freeze them. For those who are in a hurry, especially mums, it always help to have frozen zip lock bags of cut up fruits in the freezer. When needed, pop the contents of a bag into the blender. Add milk and sweetener of your choice to it. Then, blend it! It's perfect for those hot summer days when you are simply too lazy to make an effort for your meal. And on top of that, its extremely healthy and nutritious as well!
While I have mentioned two specific fruits, there is really no end to the variations of fruits you can add to your shakes. It is really all up to you! This is also a filling drink for kids, especially those who shy away from drinking milk.
8. Potato Skins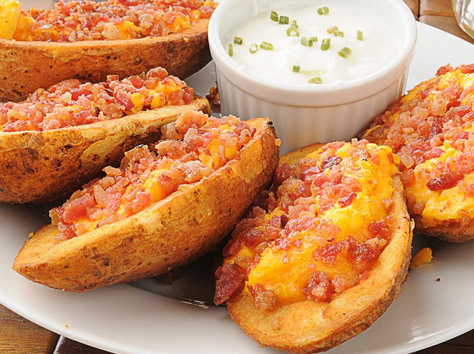 Ingredients:
Potatoes,
White sauce,
Cheese,
Olives,
Oregano.
Instructions:
The first step to making potato skins is to halve the potatoes. No need to take the skin off! Add a bit of olive oil on top and put them in the oven for a little while. This will help to cook the potatoes a bit. After a little while, take out the potatoes and scoop out some of the pulp. Mix white sauce, mashed potato pulp any spices needed. Scoop this mixture back into the hollowed-out potatoes with skins, top off with cheese, olives, and oregano. Then, put them back in the oven for a while. Serve hot and relish in the oohs and ahhs as everyone enjoys it!
9. Peanut Butter & Jelly Sandwiches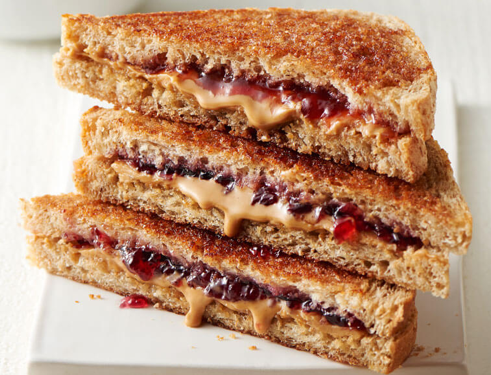 Ingredients:
Peanut butter,
Jam jelly as per preference,
Bread.
Instructions:
Don't be fooled by the limited ingredients, peanut butter and jelly sandwiches are super delicious and also very filling. The best part is how simple it is! Simply spread peanut butter on one slice, and jam jelly on the other. Combine – enjoy! If you are looking to make it healthier, opt for brown bread instead of white. There are also sugar free or diet versions of jam jellies available which can be used as well.
10. Fruit Salad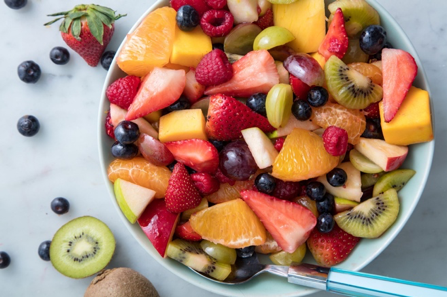 Ingredients:
Any and all available fruits,
Lime juice,
Spices such as salt and pepper.
Instructions:
These are the key ingredients needed. However, there is no right or wrong method when it comes to this particular recipe. Gather together all the fruits you can, and all the fruits you love! Cut them all into cubes and add them in a bowl. Next, pour in some lime juice and a pinch of salt and pepper.
An alternative to this would be the addition of an abundance of cream. It is, of course, less healthier, but oh so delicious! When trying the variant with the cream, or even the one mentioned earlier, it is important that the salad be super cold when serving. It is refreshing and a wonderful way to consume a variety of fruits and hence nutrients. It is also one of the ways in which picky children can be encouraged to consume fruits. The bright colors will entice them to try it!
Looking for more delicious food ideas? Check out more on 'Food Nation' at CurryFlow.com.