Am I the only one who wishes mangoes came all year long? Indeed, mangoes are the king of fruits for a reason. They are sweet, juicy, sour, tangy, and totally scrumptious.
While some of us prefer eating mangoes in their raw form, others create unique mango recipes for extra satisfaction. I'm a bit of both! Today, I want to shed light on a few super easy mango recipes that are as delicious as they look.
Hence, whether you are looking for a delicious breakfast idea, a cool mango snack, a party favorite, or a savory recipe; we have got you covered.
Take a look at these awesome mango recipes to make your summers even better.
5 Minute Mango Salsa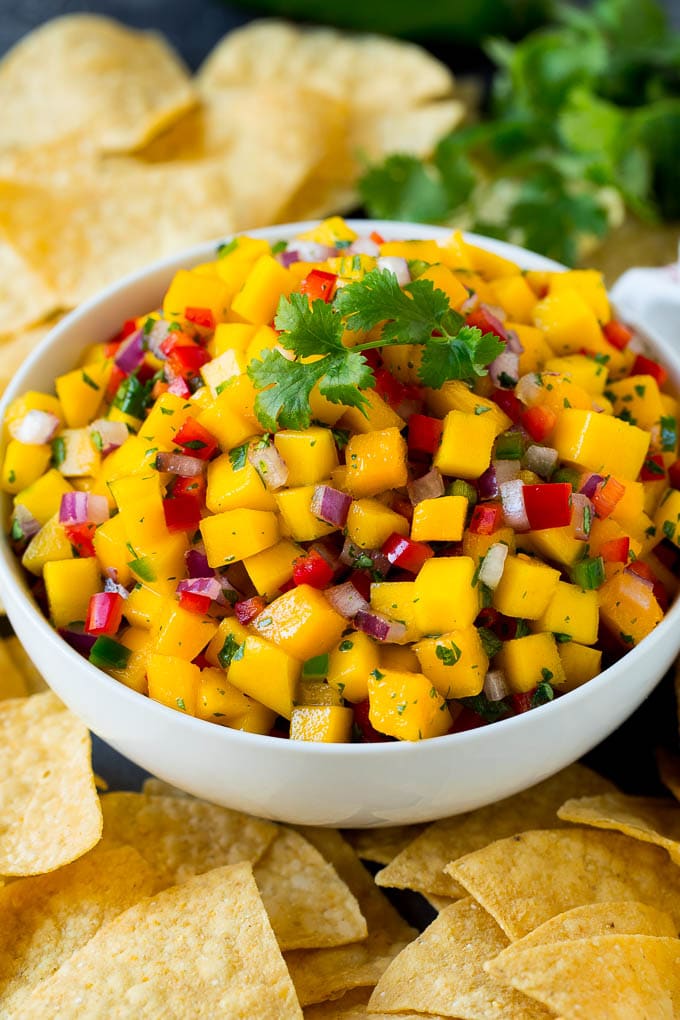 Mango salsa is a revelation for healthy eaters. Indeed, it is packed with sweet, savory and spicy flavors. Moreover, it only takes 5 minutes to make it. Mango Salsa takes delicious and is perfect for your afternoon snack or your summer pool party.
Recipe: 5-7 minutes
Ingredients:
Ripe Mangoes 2
Red Onion 1
Cilantro
Jalapeno
Kosher Salt
Mint Leaves
Lime Juice
Red Chili Flakes
Cut the mangoes into small cubes. Finely mince the onion, cilantro, and jalapeno. Then, take a bowl and add a tablespoon of lime juice. After that, add the salt, red chili flakes and mint leaves (chopped). Add the mangoes along with the rest of the ingredients in the lime mixture. Toss it up and let it rest in the fridge for 15 minutes so that the flavor enhances. Serve.
Mango Smoothie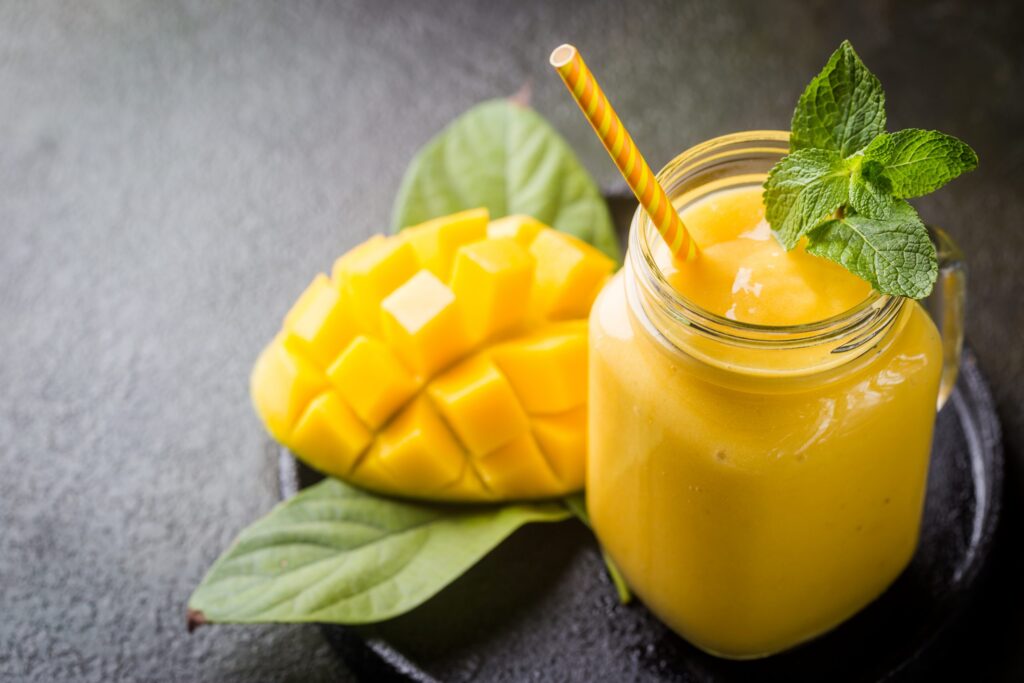 Quick mango smoothies are the perfect drink to beat the summer heat. Interestingly, they take less than 10 minutes to come together and taste divine. Here's a super easy smoothie recipe even kids can make.
Recipe: 5-7 minutes
Ingredients:
Mango 1
Yogurt 3 tbsp
Milk 2 cups
Sugar 2tsp
Honey 1 tsp
Blend all the ingredients together in a blender. When you see the froth build up, add in ice cubes for extra chill and froth. Blend for another minute and pour it in glasses. Add whipped cream on top for presentation. Voila!
Mango Shake with a twist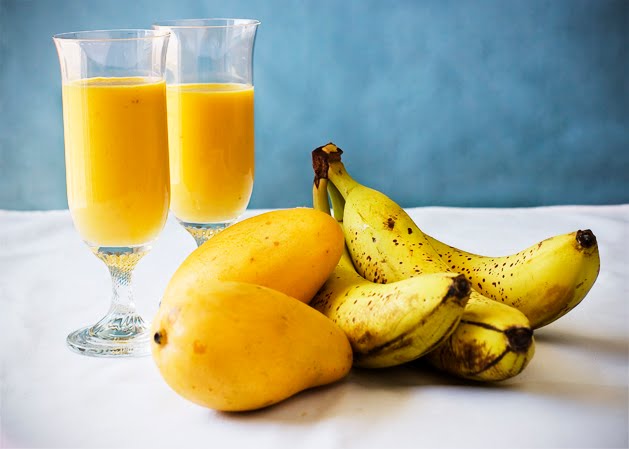 Mango shakes are a must when summers arrive. Interestingly, mango shake is perfect for children, teenagers, adults and even the elderly. I mean, even my cats love mango shake!
However, instead of having the basic mango shake every year, try our new mango shake recipe with a twist and fall in love with chilled shakes once again.
Recipe: 7 minutes
Ingredients:
Mangoes 2
Banana 1
Cream ¼ cup
Milk 2 cups
Vanilla or Caramel Ice-cream 1 cup
Mixed Nuts
Sugar (to taste)
Blend all the ingredients together except the nuts. Then, add ice cubes and blend again for a while. Add crushed nuts on top along with whipped cream for an extra oomph!
Eggless Mango Mousse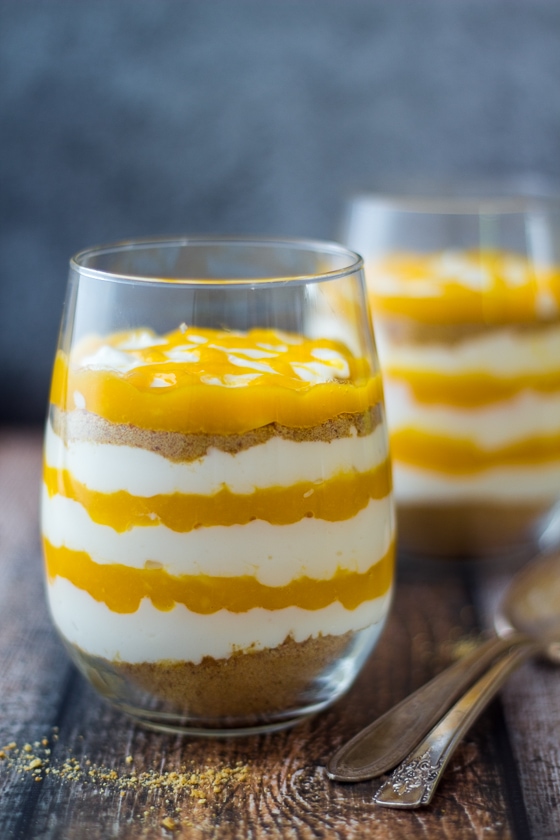 Don't we all love an easy summer dessert made out of mangoes? Interestingly, this eggless mago mousse is not only delicious, but it is heavenly because it is creamy, flavorful and summery.
Recipe: 5 hours
Ingredients:
Mango Puree 2 cups
Heavy Cream 1 cup
Icing Sugar 3 tsp
Gelatin 2 tbsp
Graham Crackers 2 cups
Melted butter ½ cup
Dissolve the gelatin in 5 tbsp boiling water until mixed well. Set aside. Moreover, blend the heavy cream in a different bowl on high speed until soft peaks form. Slowly add mango puree to the cream. Now, pour the gelatin in the mixture and also add the icing sugar. Mix everything well. Set aside.
The base: Crush the graham crackers and add melted butter to it. Set this mixture at the base of your serving dish or serving cups. Add a layer of cream-mango purree mixture on top. Again, add the graham cracker mixture layer. Thus, keep adding layers until you reach the top.
Interestingly, top it off with tiny mango cubes, some frosted cream and mint leaves. In order to set the mixture into a nice thick consistency, refrigerate it for 4 hours or overnight. Serve!
Mango Chuttni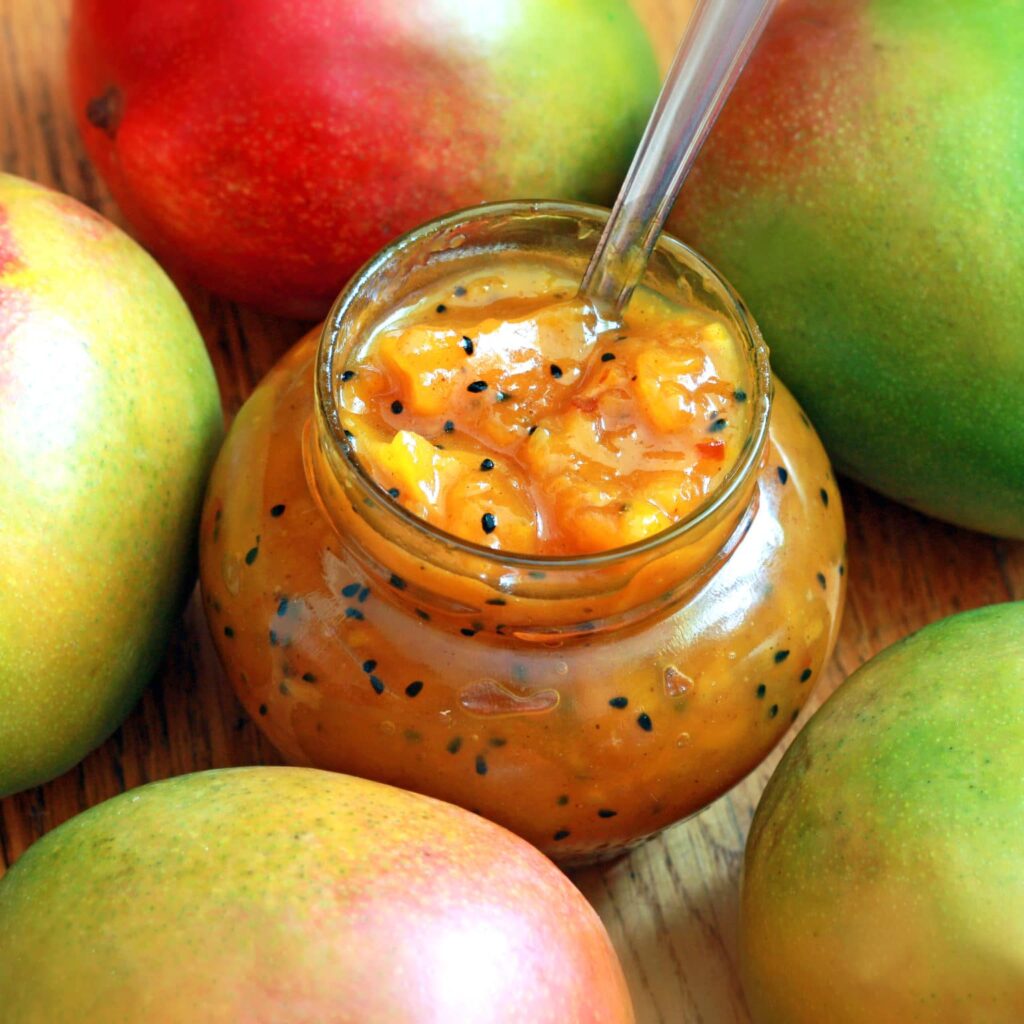 Summers are simply incomplete without a nice home-made mango chuttni! Pakistanis love mango chuttni especially when you eat it with Daal Chawal. The sweet and tangy taste is out of this world and tastes heavenly with sweet as well as savory foods. In short, Mango Chuttni is a nice sauce you can use in different recipes to enhance the flavor.
Recipe: 15 minutes
Over a low heat, heat 1 tbsp vegetable oil and sauté a teaspoon of garlic and giner and a teaspoon of red chili flakes.
Then add the following spices. (cumin seeds, coriander seeds, cloves, turmeric powder and cardamom) in equal quantities. Finally, add chopped mangoes and ½ cup white vinegar and 1 cup sugar to the pot. Slowly cook on low heat to create a sticky mixture.
Once the mixture is cooked for about 20 minutes, mash it with a potato masher into a thick paste. Its done!
Apparently you can store this delicious chuttni in the refrigerator for up to 2 months in airtight jars.
Mango Margarita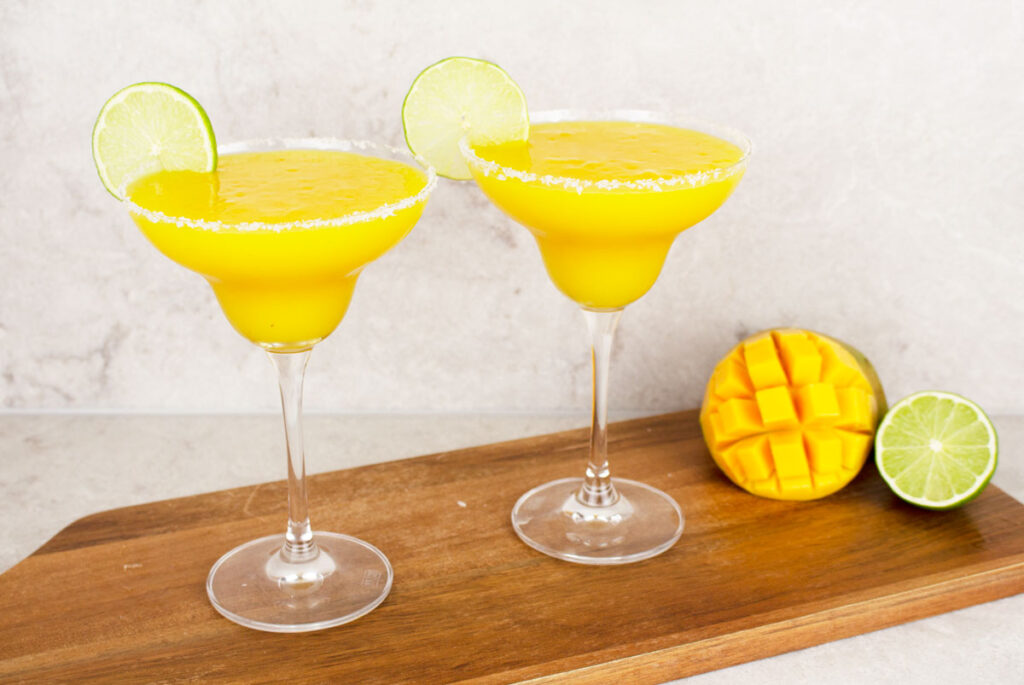 For me, Mango Margarita is the perfect warm weather drink which is blissfully refreshing, cool and so sweet. Moreover, instead of using mango juice or mango extracts, you get to use fresh mangoes and it really brings out the natural flavor.
Recipe: 7 minutes
Ingredients:
Frozen Mango Chopped
Lime Juice ¼ cup
Sugar 2 tablespoon
Sea Salt (pinch)
Tequila (optional)
Ice cubes
Blend the frozen mangoes, lime juice, sugar and salt until smooth. Add tequila if you want (optional). Add ice cubes and blend again. Afterwards, use a thick strainer to strain the drink into serving glasses. Voila. Enjoy your refreshing drink with your family and friends.
Grilled Mango Tacos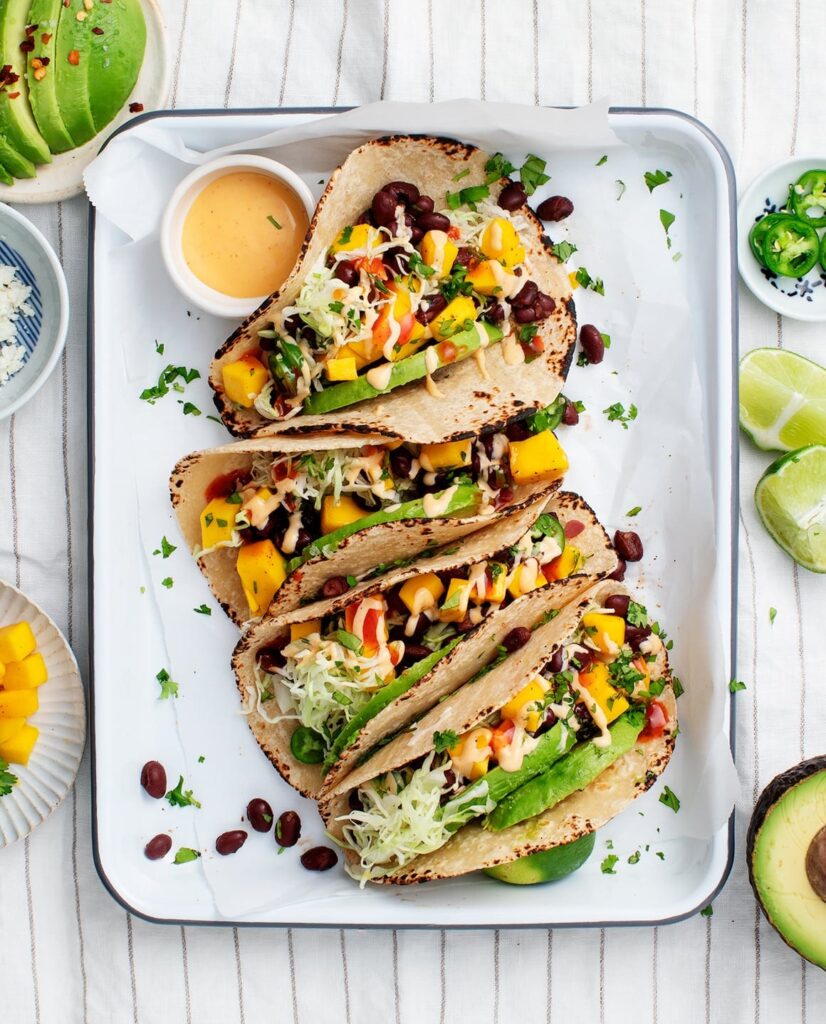 Surprisingly scrumptious, these mango tacos kick start your taco night like none other. The perfect tangy mangoes, black beans and green spicy sauce melt in your mouth and you simply can't get enough. Moreover, this taco recipe is gluten free, vegan and dairy-free.
Recipe: 25 minutes
Ingredients:
Mangoes 2
2 garlic cloves
Black beans 2 cups
Black pepper, salt (to taste)
Mango Sauce:
Mango 1
Green Onion 1
Cilantro leaves
¼ tsp cumin powder
¼ tsp kosher salt
Olive oil 2 tbsp
Chipotle powder
Firstly, boil the black beans until tender and fry them in minced garlic for 10 minutes until totally soft. Then, make the mango sauce. Start by dicing the mangoes and onions. Add all the sauce ingredients in a blender and form a fine paste. Add salt or sugar according to taste.
Afterwards, grill the mangoes by cutting them in strips. Add olive oil and kosher salt on top with a brush. Place them on a grill pan and grill them until black from both sides. Set aside.
Finally, warm the tortillas, place them on a tray and add the mango sauce. Add spicy sauce or mayonnaise (optional). Add black beans, fresh disced onions, raddish, grilled mangoes and top it off with finely sliced lettuce. Wrap it up and enjoy.
Grilled Chicken Teriyaki Mango Skewers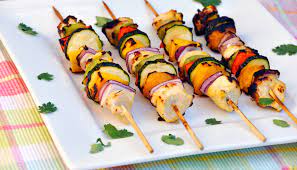 What is a garden party without teriyaki skewers? This delicious recipe is out-of-the-box, interesting and a party favorite.
Recipe: 20 minutes
Ingredients:
3 honey mangoes
Teriyaki sauce
Boneless chicken 1 kg
Red pepper 1
Orange pepper 1
Onion 1
Capsicum 1
Chop the boneless chicken into cubes. Cook them by adding finely chopped garlic into the heating pan until fragrant. Add the chicken cubes and fry for 2 minutes until white. Add ½ cup water, cumin powder, black pepper powder, salt and teriyaki sauce. At least cook for 15 minutes until the chicken is tender and the the water has dried.
In sum, take the skewers and start adding all the vegetables and chicken along with mango cubes. Once all the skewers are prepared, add teriyaki sauce with a brush and coat all the sides.
Then, grill the skewers on a grill pan and serve hot. Interestingly, you can enjoy these as they are or serve them with white rice as a meal.
There are so many more amazing mango recipes but sadly I can only recommend a few. Please check out more recipes for:
Yummy Mango Cake
Mango Kheer
Mango Chiia Pudding
Homemade Mango Ice cream
Mango Sorbet
Mango Chicken with Rice
If you know any cool mango recipes too, comment below and we will feature them in the article!