Today, Pakistani fashion consumes our lives like a well-oiled machine that is fuelled by the inexhaustible fashion industry. Moreover, it is so highly maintained by fashion enthusiasts that keep up with the ever-changing trends. Additionally, social media makes sure fashion embeds in our soul and is always significant in the picture.
However, this was not always true. Fashion trends worked their way for years before they were altered. Today, it should be applauded if a trend lasts even 6 months.
Wedding dresses from the past were extraordinarily simple, elegant, did not need a designer to craft them and lasted years until they were passed down to sisters or daughters.
Today, we want to shed light on the transformation of wedding dresses from the past century to reveal how much our fashion industry has evolved. Continue reading to find out how it all started.
1940's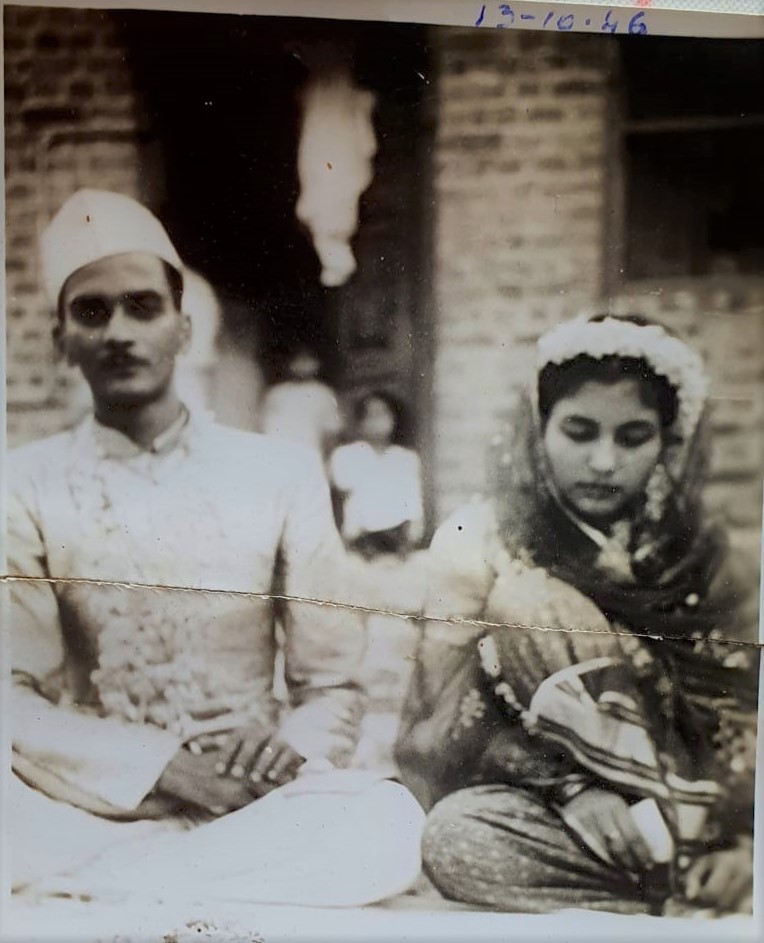 Wedding dresses were mainly inspired by the Indian culture right after Pakistan came into existence in 1947. While the bride's dress was uncomplicated with only a few laces here and there, grooms adorned plain shirwani or kurta pyjama.
Gharara was the talk of the town in 1940's. While all the women wore ghararas on a daily basis as well, wearing a slightly festive version of the same was preferred on the big day. The inspiration came from our founder, Quaid-e-Azam's sister Fatima Ali Jinnah. Pakistan's national dress for women was also a gharara paired with a kameez.
Brides chose brightly colored ghararas made out of Zarbakh or silk with nice pure chaandi (silver) work on them. The shirts were kept plain while the dupattas were also designed with chaandi embellishments.
1950's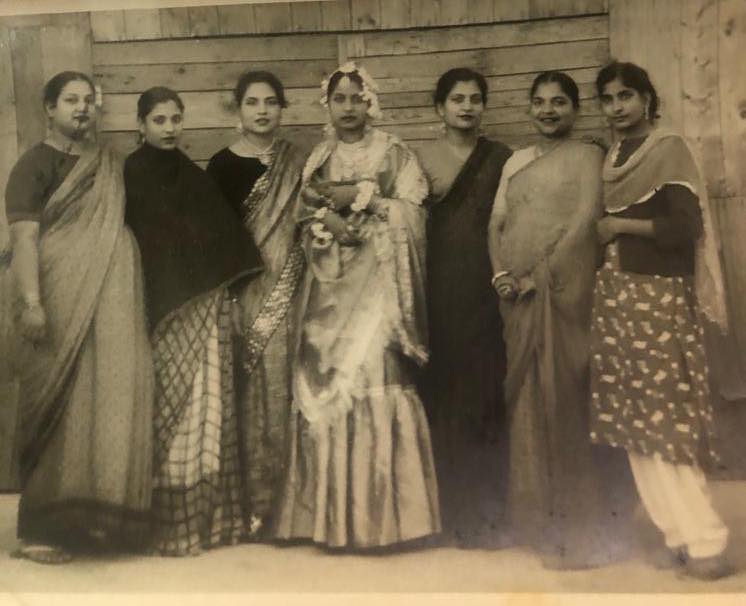 Nothing much changed over the 10 years in Pakistan taking wedding dresses into account. Women of Pakistan were stylish, yet very effortless. Interestingly, most of the ghararas were hand crafted at home by mothers and khalas.
The wedding season was enjoyed to the full by preparing hand stitched, home crafted clothing for the bride from 3-4 months prior to the wedding. Sisters, cousins and all other women of the house got together to embroider, add laces and finally stitch ghararas for the bride.
Again, men wore simple white, off-white, cream or black shirwani with straight pants.
1960's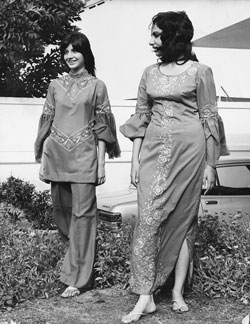 1960's brought fashion into perspective. Interestingly, Sughra Kazmi was the pioneer bridal revivalist and a couturier. Additionally, Maheen Khan was the only seamstress in Lahore and she started her business from her veranda.
Interestingly, Maheen Khan worked with multiple French designers, Stockman mannequins and created a new path towards fashion industry for Pakistani women.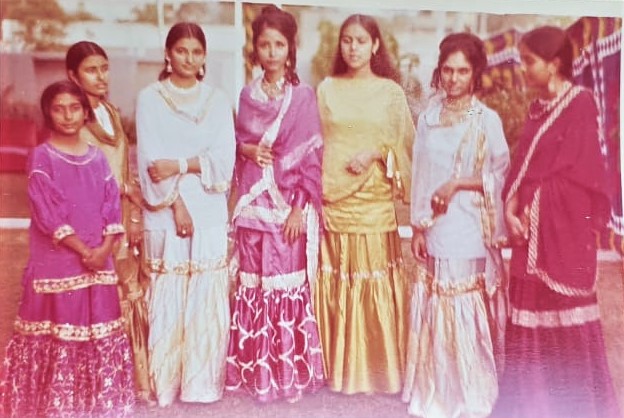 Indeed, the color choices for the bride became brighter and more combos started pouring in. Different shades of reds, maroons, blues and greens were preferred.
The dress material shifted from pure silk to tissue or a combination of both. Heavy jewelry became the new fashion trend. Brides wore 3 necklaces, a nice tikka, a nath on the nose, a beautiful jhumar on the head and many bangles.
1970's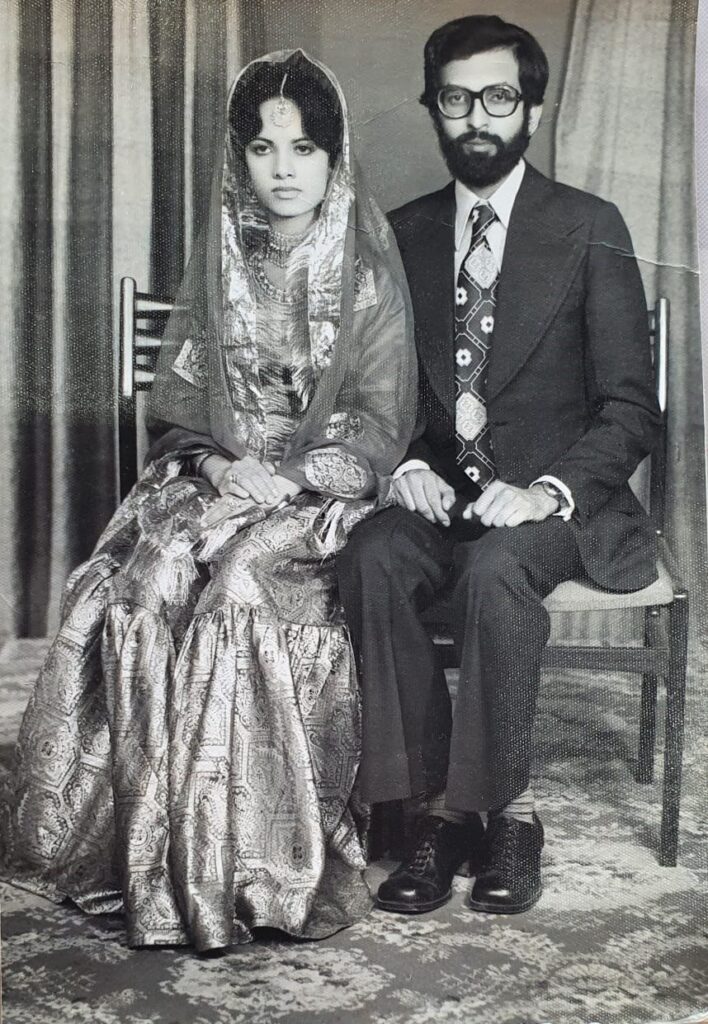 The 70's were an interesting decade for wedding formals. While the Punjabi culture kicked in and brought cool clothing designs in the form of shalwar kameez, Urdu speaking families stuck to ghararas. Further, 70's brides adorned beautifully designed shalwar kameez for their Mayyun and Mehndi. The colors revolved around shades of yellow, mustard and greens.
However, the main wedding events including Baraat and Valima saw reds and greens. Interestingly, the choice of cloth shifted from tissue to intricate designs of jamawar while the dupattas were made out of net, chiffon or silk.
Accordingly, men wore shirwani for baraat and a 3 piece western suit for valima.
Punjabi shalwar kameez'
1980's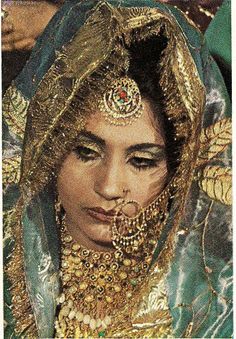 With the advent of Indian films, glamorous clothes gained the spotlight. Ghararas got paired with shorter shirts to enhance the curves and 'lehngas' were the new in!
Nince flared lehngas with usually thigh length, plain shirt got featured. However, the dupatta stole the show due to heavy lappa, gotaa and chaandi work on it.
Jamawar was still the best choice for ghararas and lehngas. We saw a comeback of tissue for shirts and dupattas. The wedding dress colors shifted from deep reds to floral pinks, shocking pink, greens combined with pinks while gold enhanced the overall look.
1990's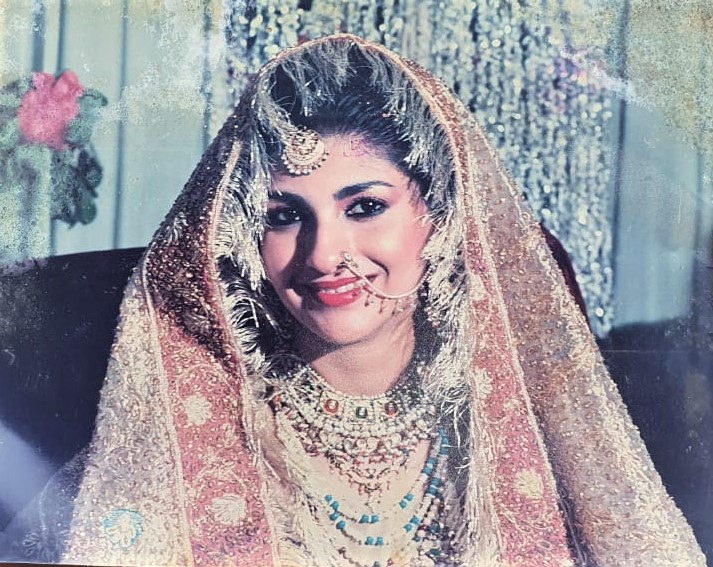 By the end of 1980's, names such as Bunto Kazmi, Nilofer Shahid, Rizwan Beyg, Shamaeel and Amir Adnan became the talk of the town. 1989 saw the first Pakistani fashion show featuring Maheen Khan alongside Freiha Altaf. Hence, Karachi rose up as Pakistan's fashion capital.
While hiring a designer was a big deal in early 1990's, brides begged their parents to get them uniquely crafted attires to look different. The designers charged a lot but created beautiful wedding attires for both, the bride and the groom.
Since photography also went up a notch, spending money on professionally designed clothing made sense now. In particular, a combination of reds and gold paved its way back in for baraat. On the other hand, Valima brides chose emrald greens, turquoise, fresh pink and shades of blue.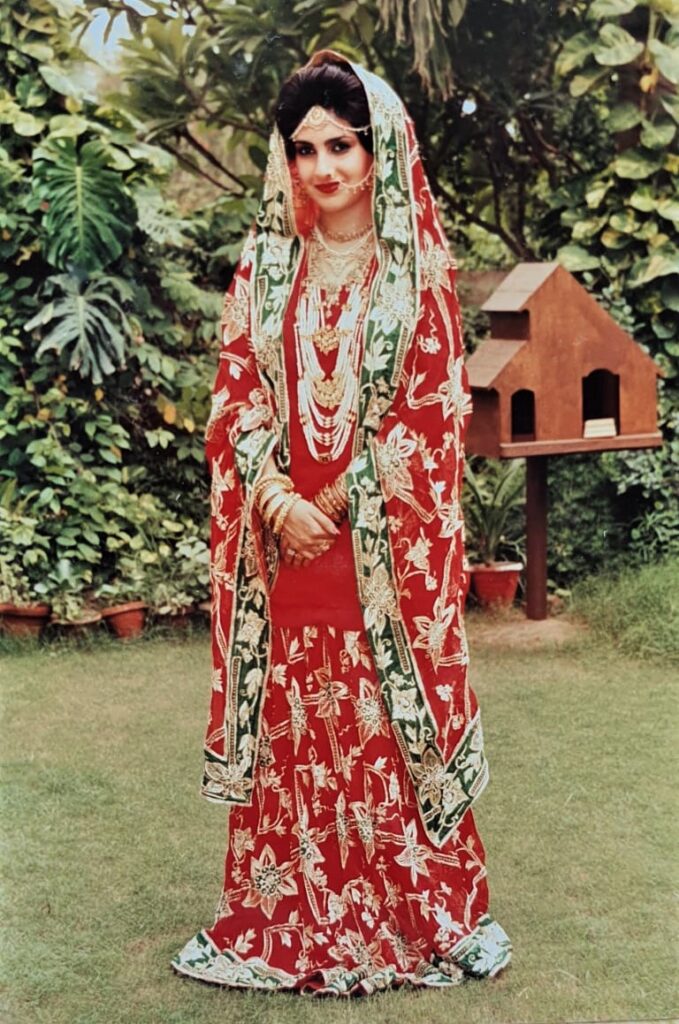 The makeup revolution was another factor that enhanced the bride's overall look. Smokey eyes paired with popping colors of lip stains was the fashion trend.
Men on the other hand wore shirwani with shalwaar and a nice matching qulla (headgear). They still chose to wear a 3 piece suit for valima.
2000's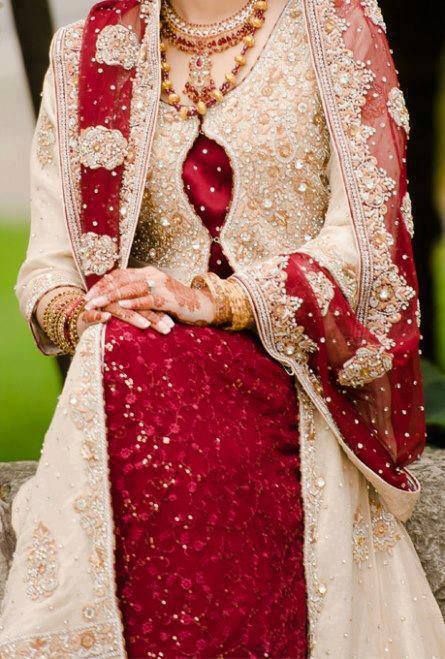 2000 was a brand new era that brought many opportunities with it. Since the fashion enthusiasts had graduated from the Pakistani School of Fashion Design Lahore, the structure of Pakistani fashion shifted forever.
Ghagra and Choli paved its way into our world from the Indian movies and everyone wanted to rock that look. New fashion designers such as HSY, Maheen Kardar, Nomi Ansari, Maria B and Kamiar Rokni gained the spotlight for wedding formals.
Brides wore beautiful lehngas with waist length cholis, barely covering their slim waists. Some even chose to show theirs. The fashion trend took a turn towards monogamous and one-tone color combinations. Specifically, a one tone red dress from top to bottom was considered supreme. Another color that made its way to the top was 'Peach'. Peach or tea-pink gave a nice soft look for brides on their valimas.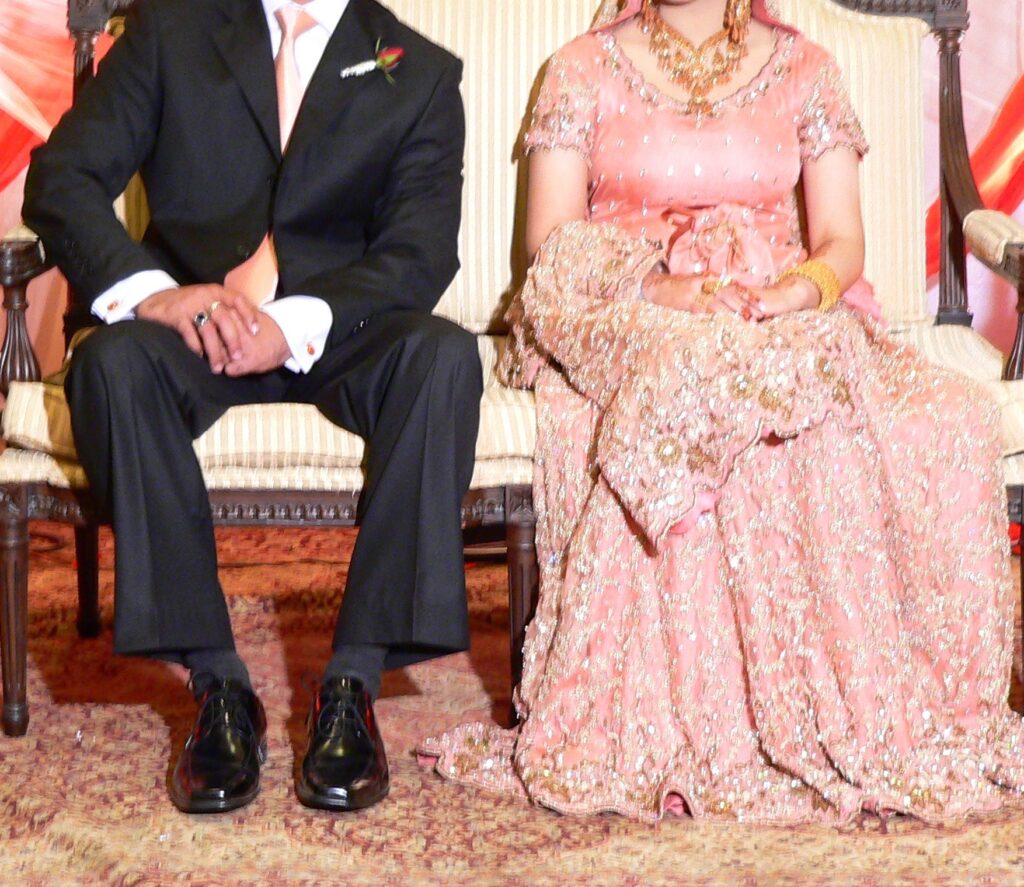 Another thing that changed was the style and choice of embellishment on the bridal dresses. Heavy stone work, lappa, embroidery and tilla was seen as opposed to gotaa and chaandi. Now, the choli also had matching kaam on it while the lehngas and dupataas were full of intricate designs like never before.
2005
By mid 2000's, important fashion events such as Lux Style Awards and Carnivale de Couture gave Pakistani designers nice platforms to flaunt their art. New names added the fashion designer list every 6 months and Pakistan saw a bang in the fashion industry like never before.
While professional designers showcased their ideas and designs in their boutiques, local people were equally interested in buying them.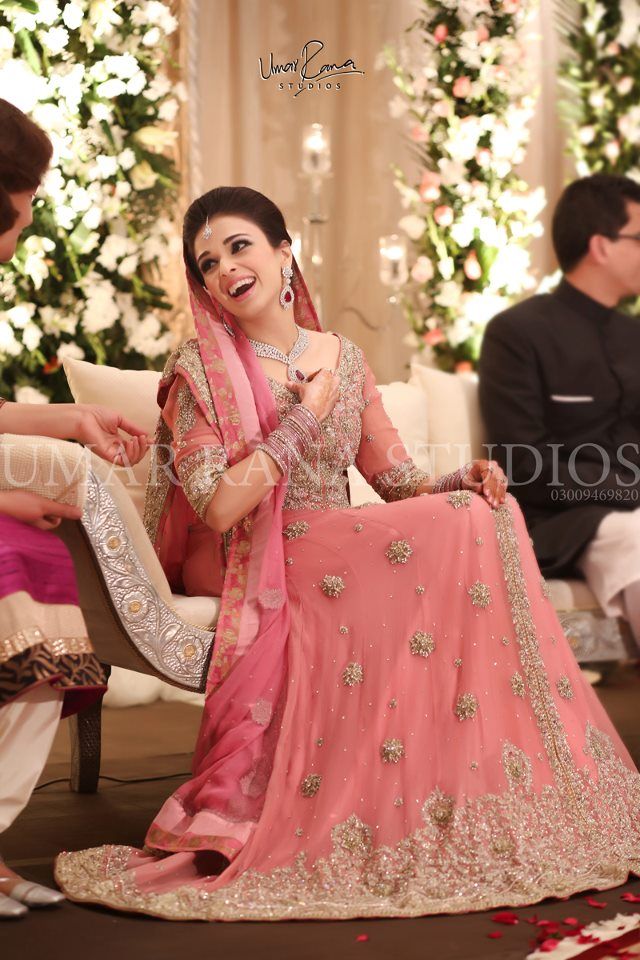 Ghagra choli and lehnga choli was still the trendy deal but the choice of color combos, style of embellishment and embroidery work shifted a lot. Colors such as peach, tea-pink, beige and gold, maroon and green, orange and red made to the top.
The embellishments got larger and colored strips of jamawar outlined the dresses. Another cool factor included men wearing shirwani with qullas that matched the bride's dress.
2010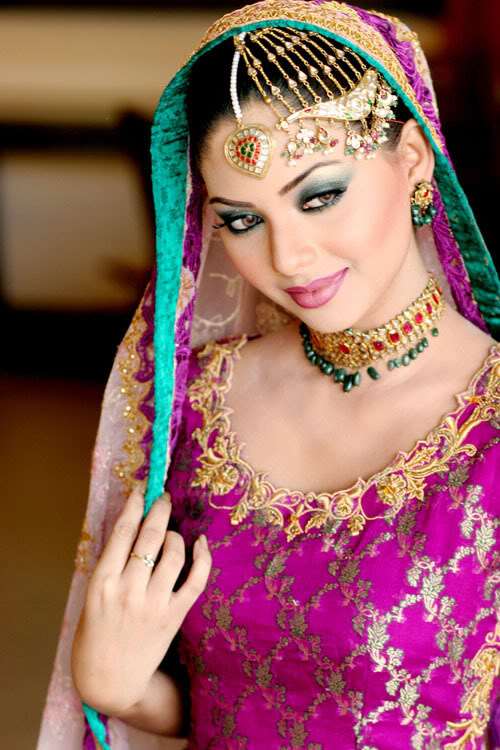 Interestingly, Shararas came in fashion in 2010. In sum, similar style of pants as ghararas, but with a less flow and a one piece flared lower.
Moreover, unique color combinations with loads of lappa, tilla, stonework came into existence. Color combinations such as sea-green and silver, maroon with beige, purple and blues came in fashion.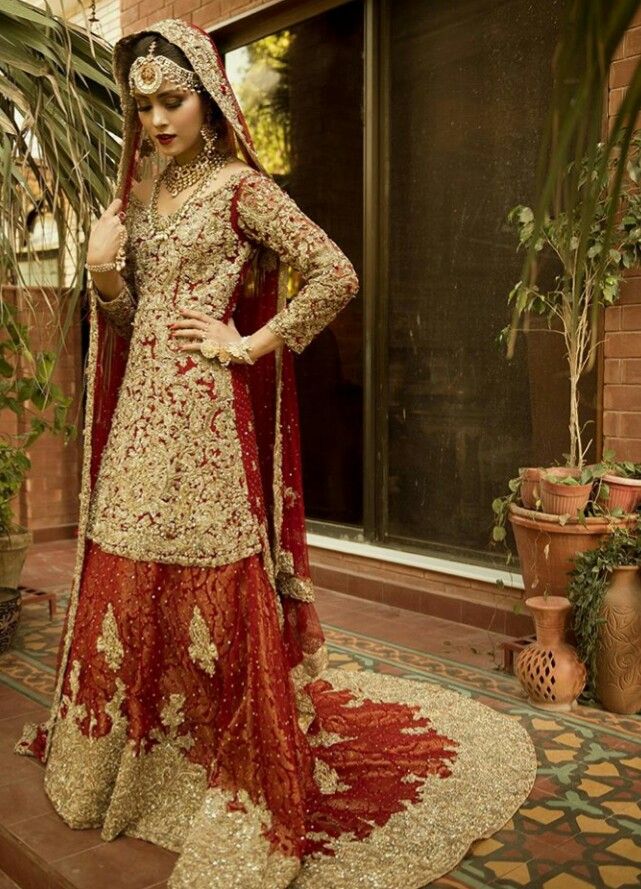 2015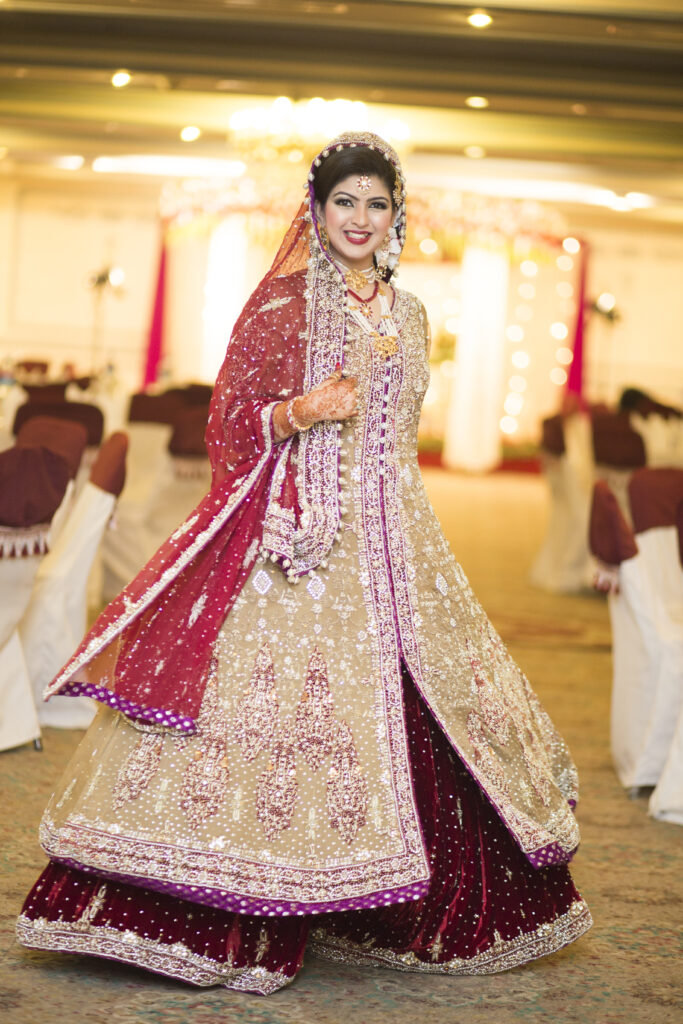 2015 was the year when nude colors gained the instant spotlight. Basic beige, light brown, white, cream, pearl white and similar dull shades made their way to the bride's outfit with a contrasting red or maroon dupatta.
2015 was also the year when long, ankle length shirts were enjoyed as compared to shorter shirts. It was the same for formal wear. A shift from simple lehngas and short shirts went straight to long, A-line ankle length shirts paired with either churridar pyjama or sharara.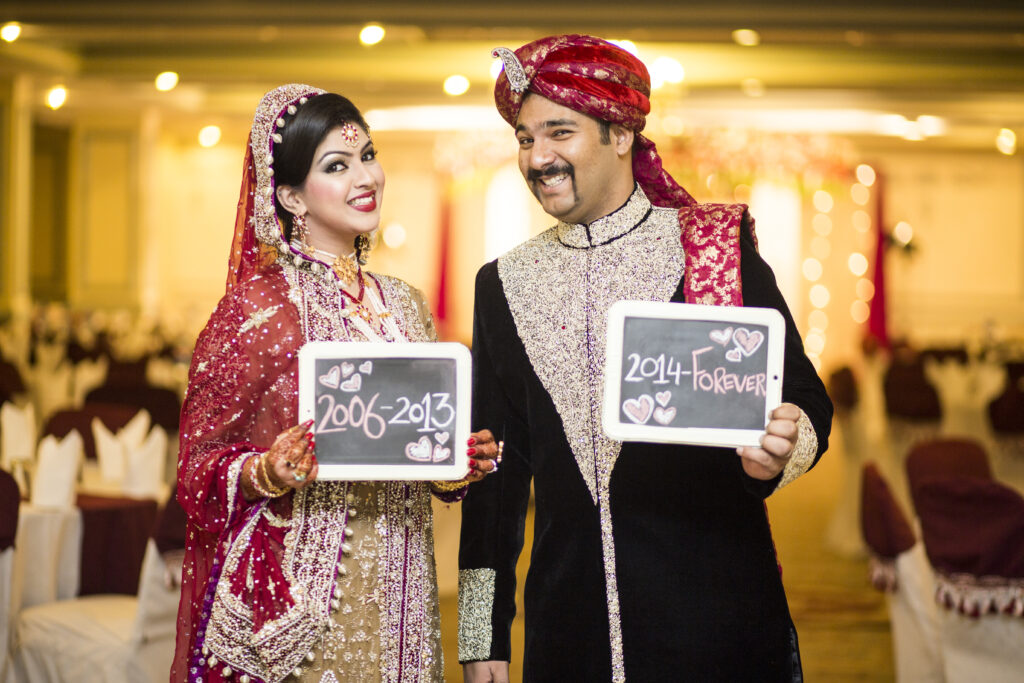 2020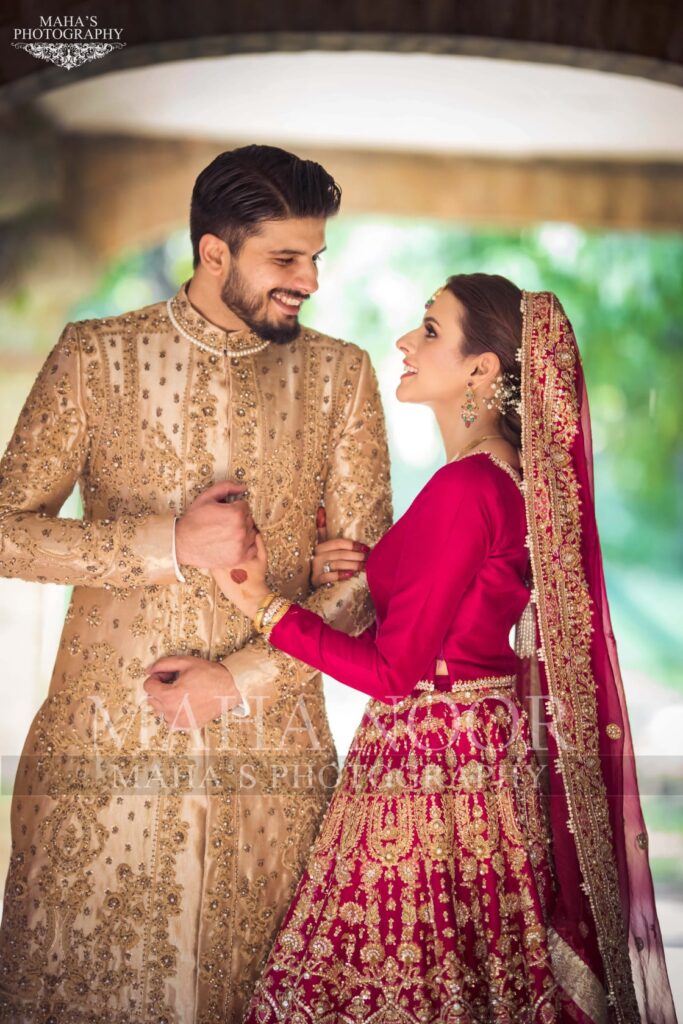 Lots of pearls, intricate work, different embellishments and textures are the new bridal trend. Moreover, long maxi dresses with can-can and poof look gorgeous. On the other hand, gharga choli made its way back to the hood but limp ghagras won't cut the slack. Super flared, can-can poofed ghagras are the real deal today.
Moreover, colors such as slivers, pearl whites, peaches, deep reds and dull gold are the new trend.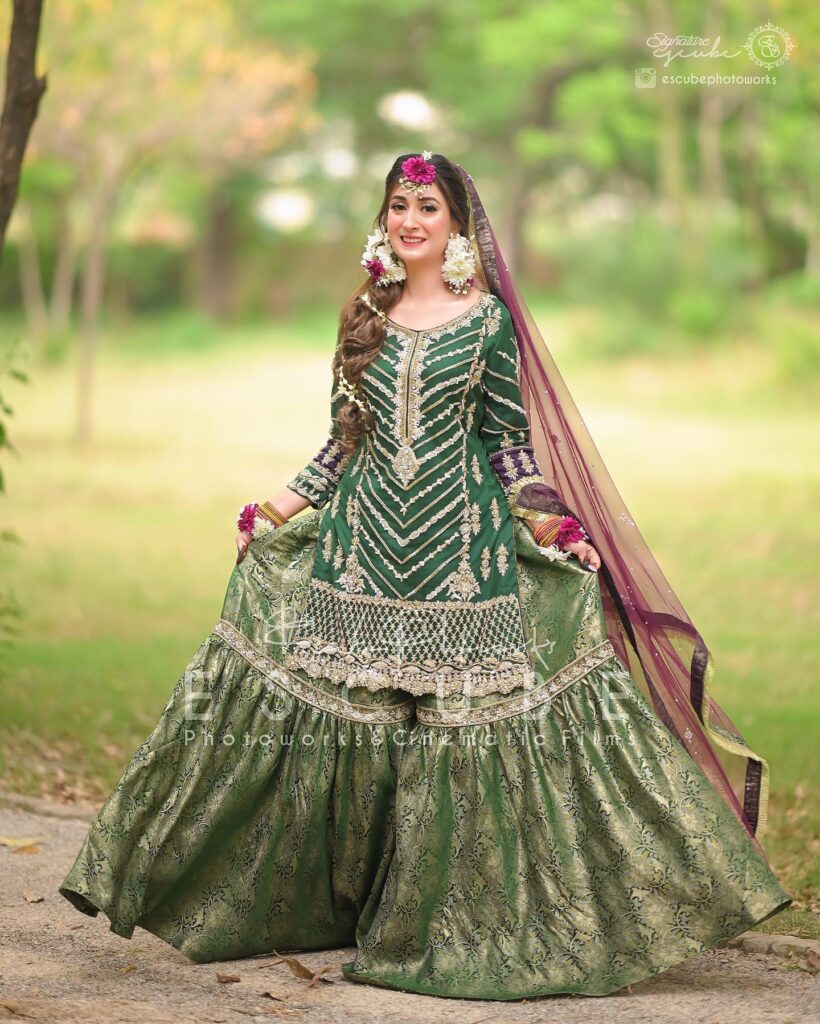 Additionally, the cutwork and handwork on the bridal dresses is so intricate and equally expensive. The best part is that grooms wear trendy clothes too that showcase matching colored outfits as the bride. While some grooms wear jamawar waist coats to match the bride's dress, others wear shirwanis with unique cuts, designs and colors.
The main cloth textures this decade are chiffon and net for brides and jamawar and satin for men.