When Mahira Khan initiated her career back in 2006 as a VJ on MTV Pakistan, who knew one day she would be the most cherished style icon of Pakistan? Apparently, her performance in the feature film BOL was only the beginning!
Nevertheless, after landing the perfect innocent yet fierce role in Humsafar in 2011, she not only became the talk of the town but turned into every young girl's inspiration.
Interestingly, winning the Best Actress award at 12th Lux Style Awards for the same serial definitely made Khan jump on the bandwagon of Fashion spree. Always draped in awe-inspiring ensembles at award shows, Mahira Khan really knows how to come prepared for paparazzi.
Hence, here's dedicating our blog to tons of photos of the diva revealing how her style has truly evolved through the years.
12th Lux Style Awards 2013
Flaunting an Elan ensemble in 2013 paired with nothing but popping red lipstick, Mahira khan did know how to make a style statement even back then.
Indeed, winning the first award is genuinely an achievement. Moreover, how could anyone else win the 12th Lux Style Satellite Actress Award after the kind of acting Mahira Khan showed on-screen in Humsafar!
So here's to marking her success on-screen as well as her 1st formal dress reveal at the award show. Check out how happy she looks after winning the award.
14th Lux Style Awards 2015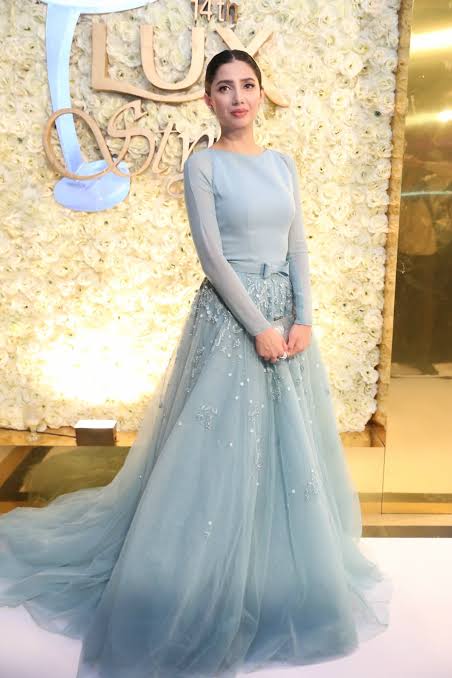 Indeed, Mahira Khan has been spotted wearing eastern clothing more than western, however, when she chose a Cinderella-like powder blue Hobeika dress, it didn't really make a statement. At least not for me!
Maybe it was the dull color or the poor dress fitting, the truth is that standing beside Mehwish Hayat in her green embellished gown and Amna Ilyas in her figure-hugging red dress, Mahira Khan didn't really make the cut.
What do you think?

Vogue India Beauty Awards 2016
'The face to watch out for', an award title which fit Mahira Khan perfectly just like her figure-hugging green dress by Monisha Jaising was a treat for sore eyes.
In addition to that, the cut, as well as the color, complimented her immensely. Especially, because she chose to stick with the 'less bling' rule in terms of jewelry as well as her hair.
However, she could have totally ditched the pyramid shaped clutch and maybe settled for an emerald statement bracelet?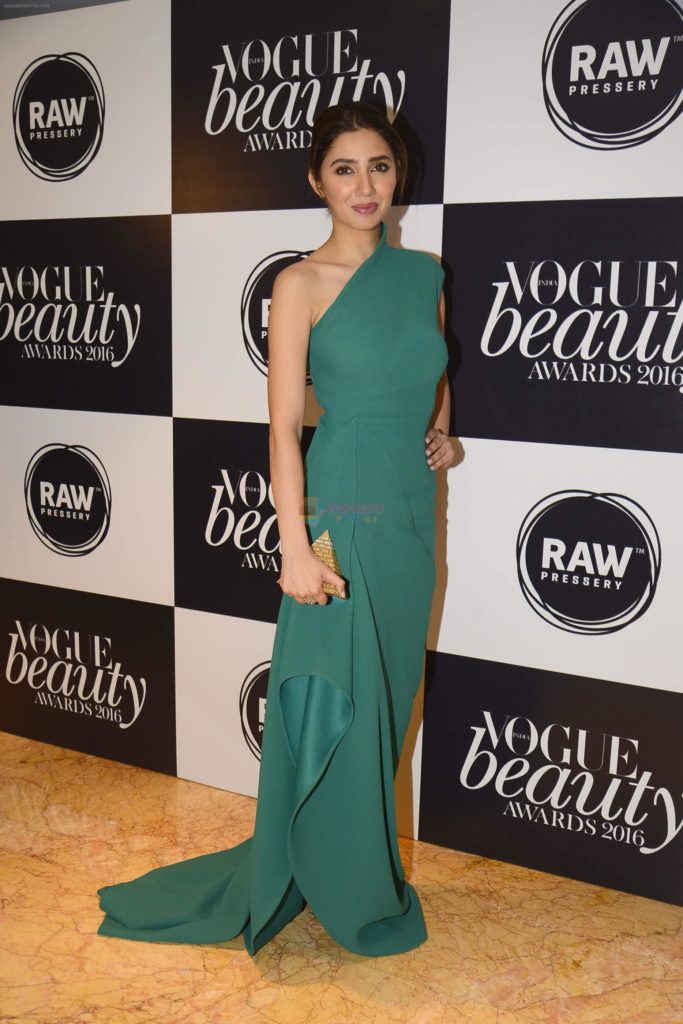 Here's a video after she received the prestigious award.
15th Lux Style Awards 2016
Indeed, Khan didn't win two awards the same day for nothing! The extraordinary performance in both, Bin Roye as well as Sadqay Tumhare not only stole the hearts of millions but certainly helped Mahira land on an entirely new level of fame.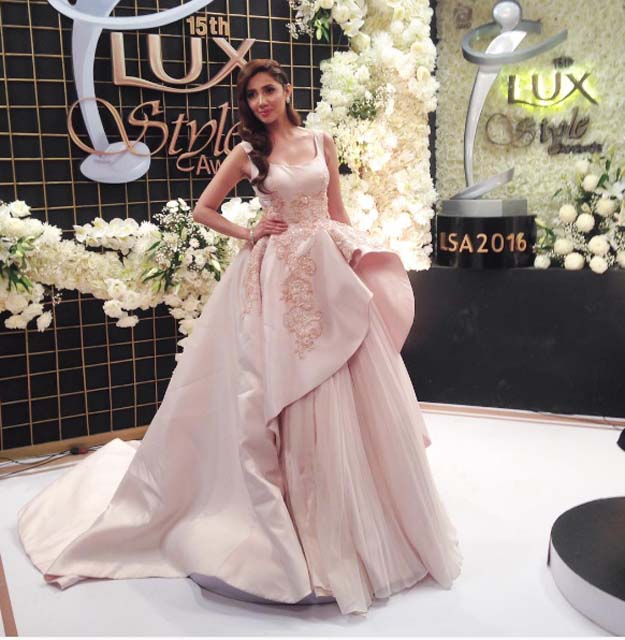 Moreover, being draped in a princess like baby-pink Shahira Lasheen gown had everyone's jaws dropping down on the floor! The embellishment on the gown was extremely beautiful and intricate, while the trail at the back was fluffy and adorable. Check it out yourselves!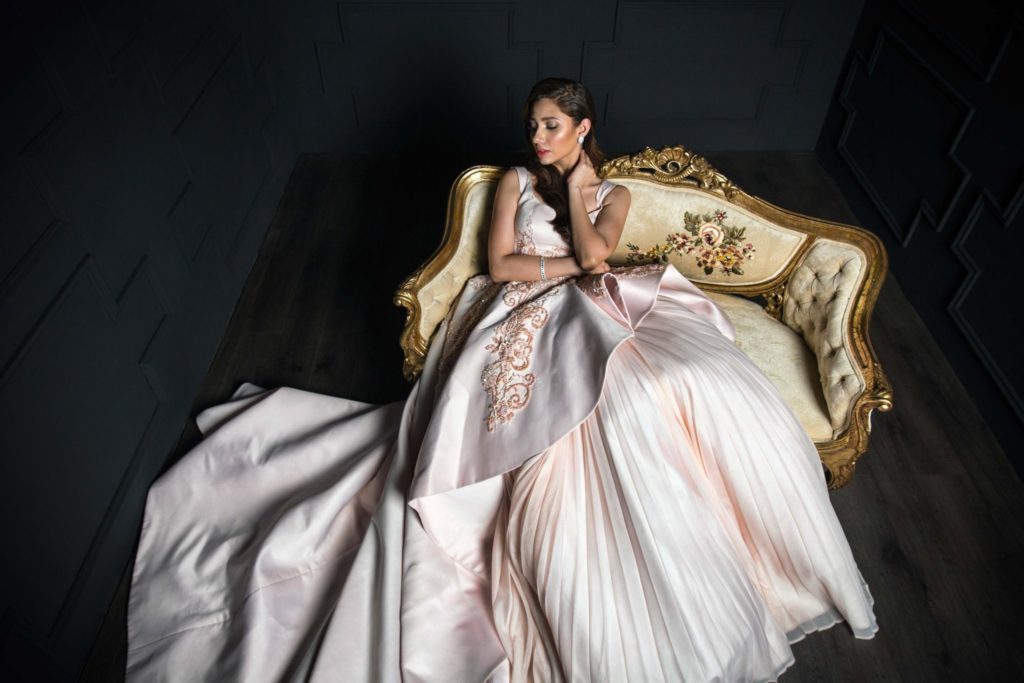 Hum Style Awards 2016
In particular, we usually see celebs adorning western outfits at award shows. Nevertheless, we witnessed Mahira Khan being elegantly wrapped in a Black and fawn lace saree by Rizwan Beyg in 2016.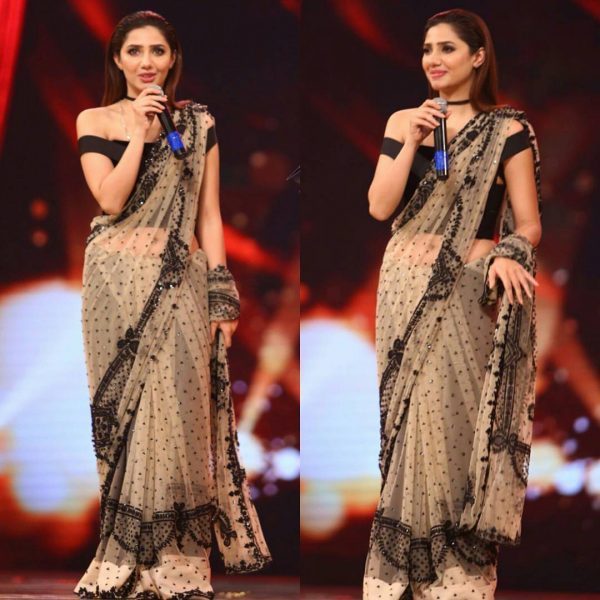 In regards to the outfit, the simple yet sensual styling definitely made her the show stopper of the whole event. The nude lips were a faultless fit! Do you guys agree?
Beirut International Awards Festival 2017
The 8th Beirut International Awards Festival was a treat for Mahira as she bagged two awards while rocking her Barbie look. The Nicolas Jebran Couture gown in pink and black was picture perfect, especially because Mahira Khan chose to show off her hair on one side.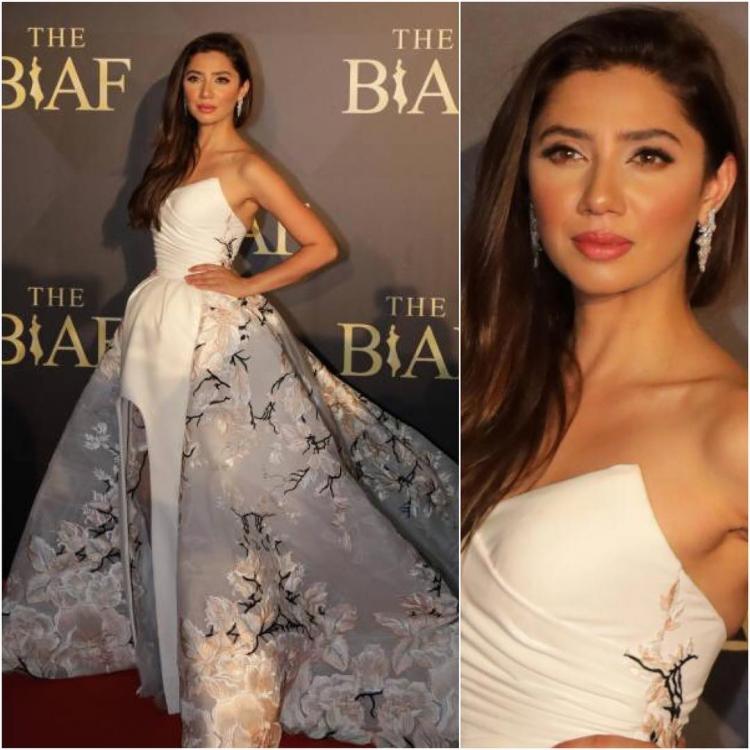 Obviously she won the 'best dressed award' at the event! She looked divine. Interestingly, the paparazzi couldn't get enough of her either!
16th Lux Style Awards
You can never go wrong with black! Mahira Khan chose a skin-tight pure black, stretchable, floor length dress which clearly accentuated her slim figure. Still, in my opinion, I believe her stylist could have painted her lips red or maybe made her eyes smokey.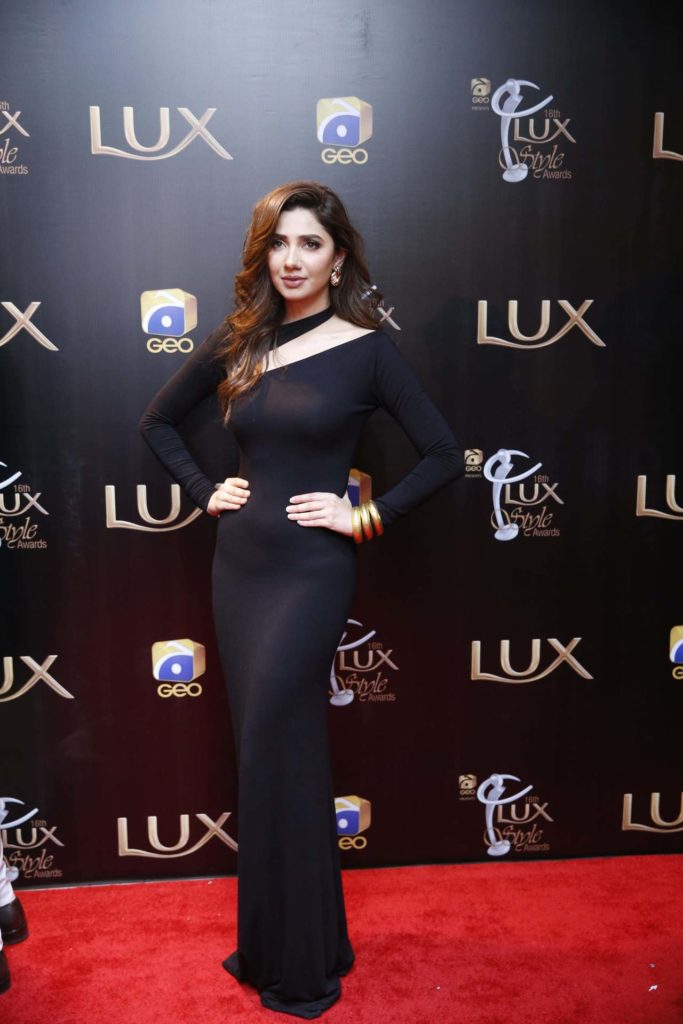 The nude lips are definitely a 'thumbs down' for me. Especially with such a hot dress!
17th Lux Style Awards 2018
Mmm… why a shadi dress? As much as I have loved the previous dressing preferences, the outfit for 17th Lux Style Awards is a big NO for me. Maybe ideal for her friend's wedding events – not for an award show in my opinion.
6th Hum Style Awards 2018
Going Desi again after LSA, this time Mahira carried an Elan ensemble exquisitely. Specifically, the dress's intricately embellished bodice paired with a printed lower was nothing but eye-catching.
Lux Style Awards 2019
The supaastar from the feature film 'Superstar' looked gorgeous in a fresh golden gown. Finally some color! As soon as she shared her amazing photos on social media, her fans immediately started drooling over them.
Take a look at them yourselves.
Let's see what she has in store for us all at the next award show!