Pakistan is rich in fashion and style. Hence, the phrase 'Art transcends borders' definitely fits like a puzzle for the up-roaring Pakistani fashion industry. Indeed, the designs, planning, craftsmanship, intricacy, and choice of material are exquisite.
Top designers including HSY, Sania Maskatiya, Deepak Perwani, put their heart and soul into constructing prêt wear, and mind you; it takes months. The color combinations are faultless. The detailed embellished work is super intricate and the quality is simply flawless. Hence, what is a better way to celebrate our fashion industry that to have top international celebs adorning Pakistani designer wear!
Here's cheering for the amazing Pakistani fashion designers for dressing international celebrities in their haute couture.
Shahrukh Khan
Our friend and renowned celebrity, Shahrukh Khan from across the border decides to choose a Pakistani designer brand for a Cadbury Diwali commercial advertisement. Interestingly, he chose Faraz Manan's off-white Kurta Pyjama. The outfit pairs with an intricately embroidered long jacket in floral patterns.
This Faraz Manan creation doesn't allow you to take your eyes off the screen, because it looks really nice. Moreover, Shahrukh Khan carries it really well.
Riz Ahmed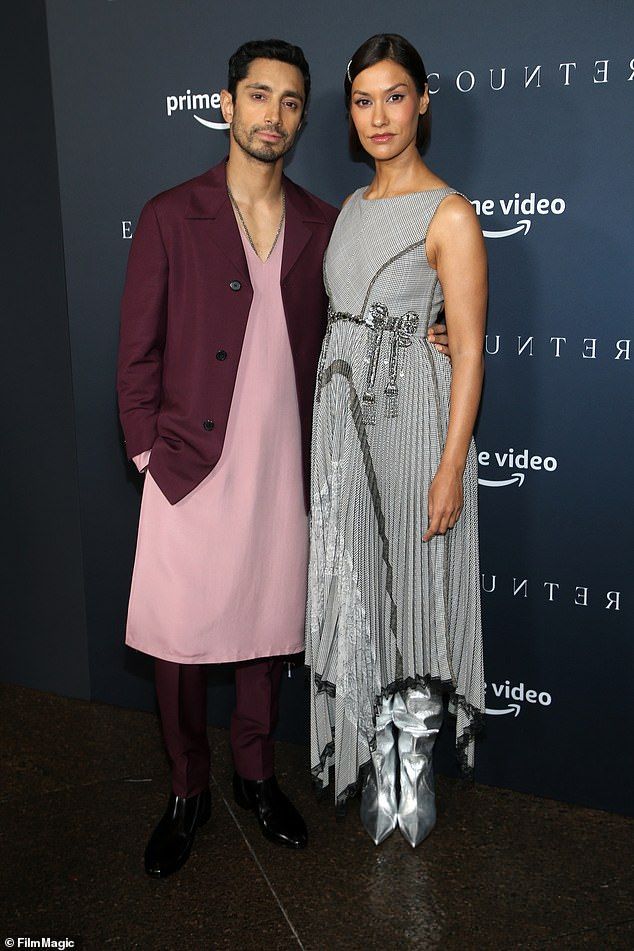 Riz Ahmed, also known as Riz MC is a British Pakistani actor, activist, and rapper. Not long ago, Riz Ahmed chose a lovely hand-woven shirt from Ratash for Esquire. Moreover, Riz Ahmed also opted for a nice printed jacket from Ratash for an interview with MSNBC. Indeed, Pakistani fashion designers are extremely talented and always craft something unique and eye-catching.
Kate Middleton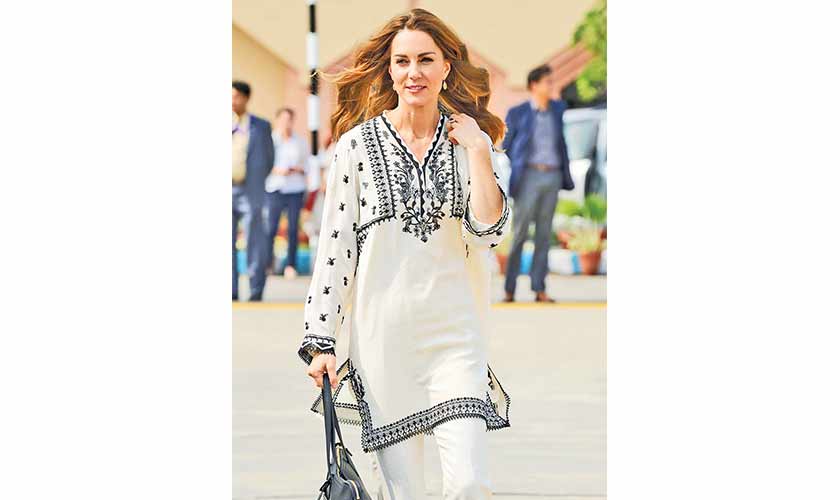 Most of you remember the Royal visit to Pakistan not more than 2 years ago. Kate Middleton, the Duchess of Cambridge was accompanied by the Duke, Prince William and they both had a wonderful stay. However, what's really interesting is how Kate Middleton adorned many Pakistani outfits.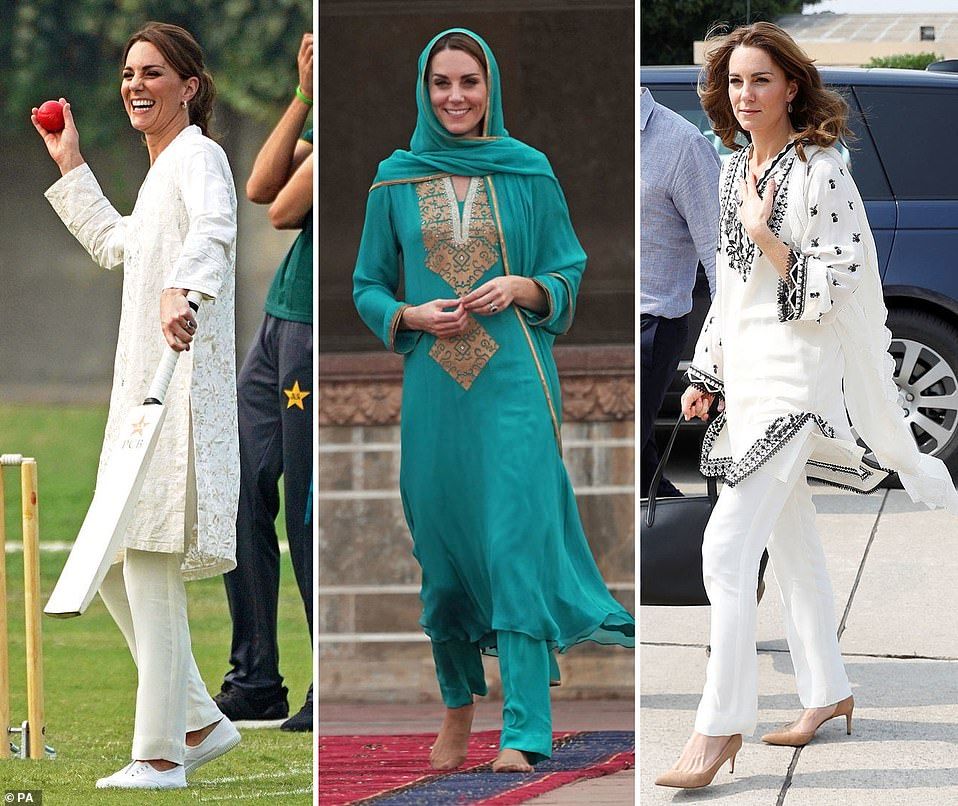 On their first day in Pakistan, she wore a beautiful traditional blue kurta with straight pants and a flowing dupatta. Additionally, her dress had white Pakistani embroidery and it was from Maheen Khan. Later, she wore a beautiful Chitrali jacket and hat made by local vendors. Moreover, she wore a black and white dress by Elan.
Kareena Kapoor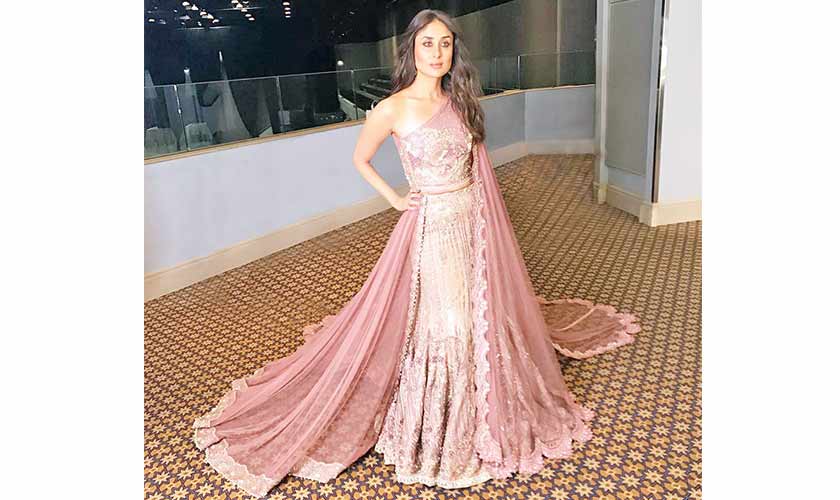 It is true that Faraz Manan has many clients globally. Kareena Kapoor Khan is the diva of Bollywood and Faraz Manan had a chance to dress her various times in his prêt outfits, including his luxury Crescent lawn collection. Of course, the response from the masses was great for the duo.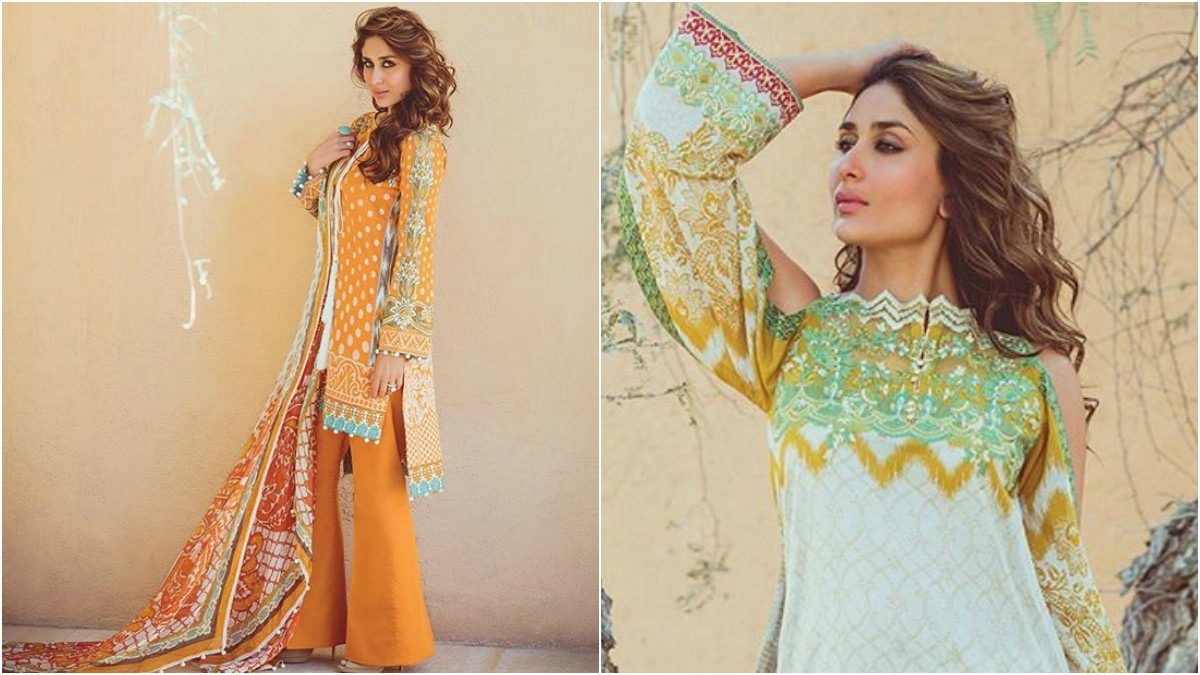 In 2018, Kareena Kapoor Khan walked the Masala awards wearing a mesmerizing tea pink dress with flare and intricate embroidery and stonework crafted by Faraz Manan. Isn't the dress gorgeous?
Deepika Padukone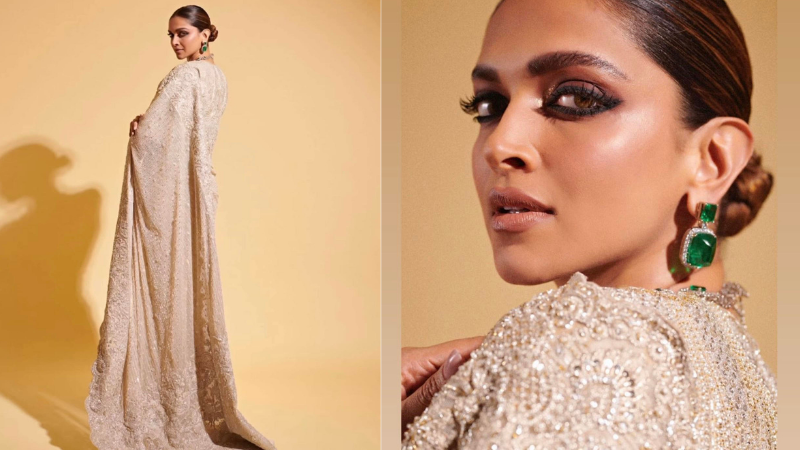 Again, Deepika Padukone was also seen wearing Faraz Manan. Interestingly, Deepika shared pictures donning an elegant ivory sari created by Faraz Manan. Surprisingly, Deepika Padukone as well as Faraz Manan received a lot of love from the fans.
Indeed, Deepika looked absolutely gorgeous carrying an intricately designed sari. She went for smokey eyes and paired the ensemble with emerald earrings.
Gigi Hadid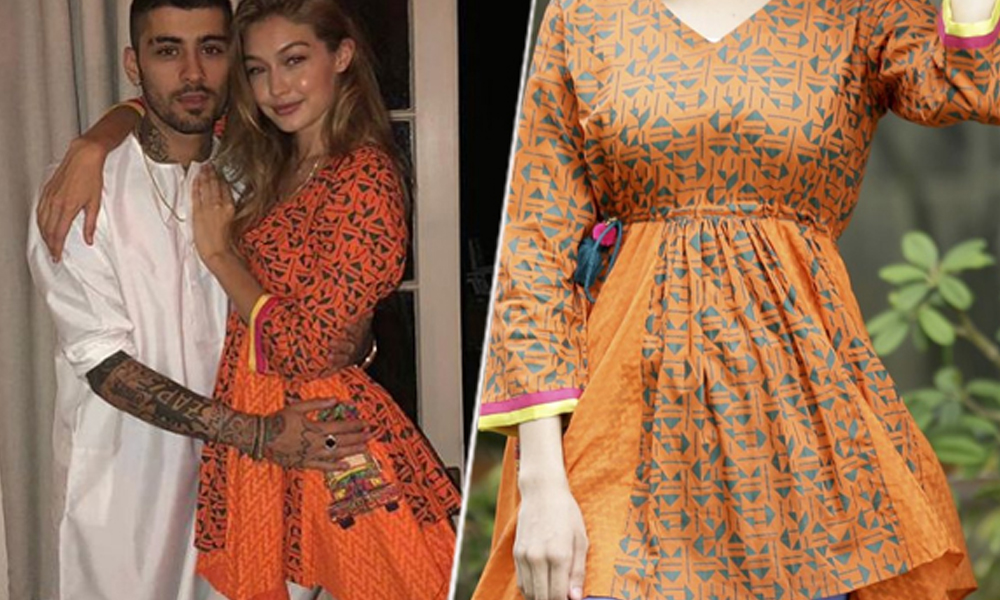 Gigi Hadid is a supermodel everyone knows about. Back in 2018, Gigi Hadid adorned a nice printed peplum tunic made by Almirah for Eid. She paired it with white pants and the look really suits her.
Esra Bilgic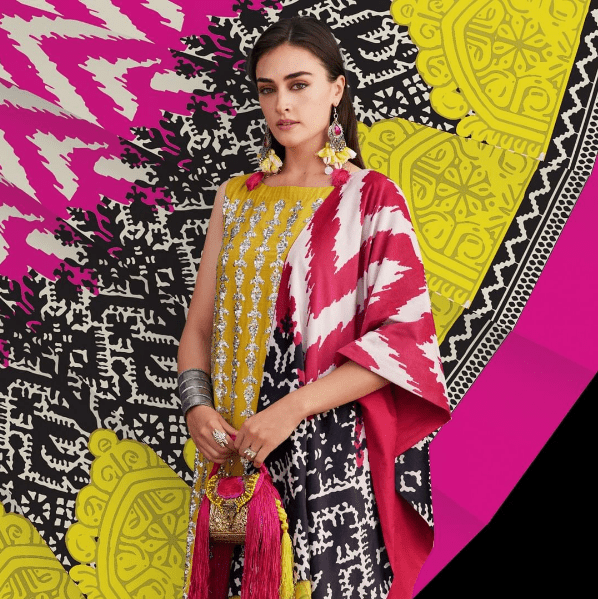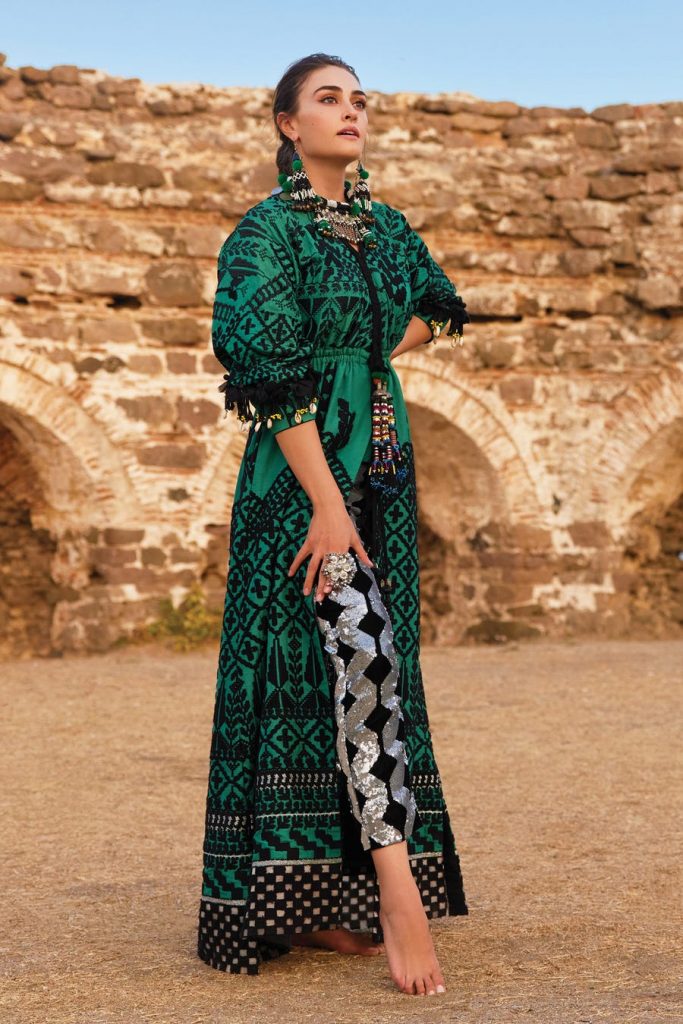 Esra Bilgic is a renowned Turkish actress. She is best known for her role as Halime Hatun in the Turkish television series Diriliş Ertuğrul. Apparently, various Pakistani brands hired Esra when she visited Pakistan for their advertisement campaigns. She happily accepted them and donned beautiful lawn brands.
She definitely looked gorgeous in all the color combinations, beautiful Pakistani cuts, and designs.
Kumail Nanjiani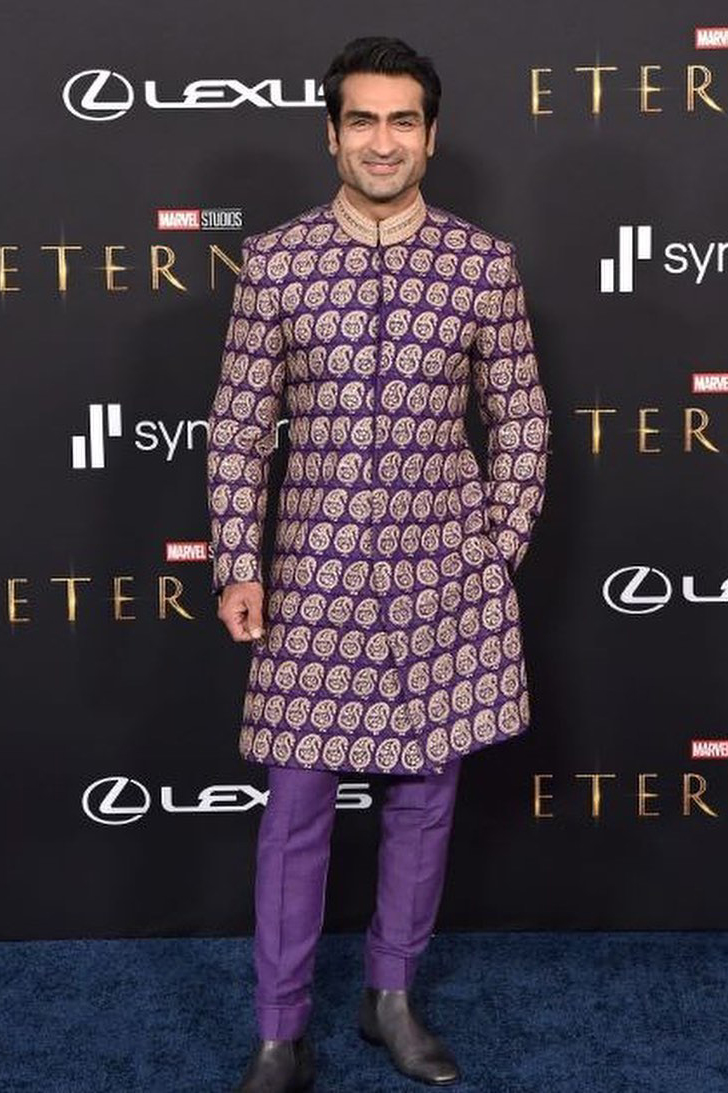 Umar Saeed is no stranger to designing custom outfits for Pakistani and international celebrities. In 2021, Umar Saeed Couture stepped up the game and extended their designs to Kumail Nanjiani. If you must know, Kumail Nanjiani is a Pakistani American comedian, actor, and screenwriter.
Interestingly, Kumail Nanjiani adorned a stunning purple sherwani with golden details and print paired with purple straight pants. Certainly, he couldn't have selected a cooler Umar Saeed outfit for the Eternal's premier.
Tan France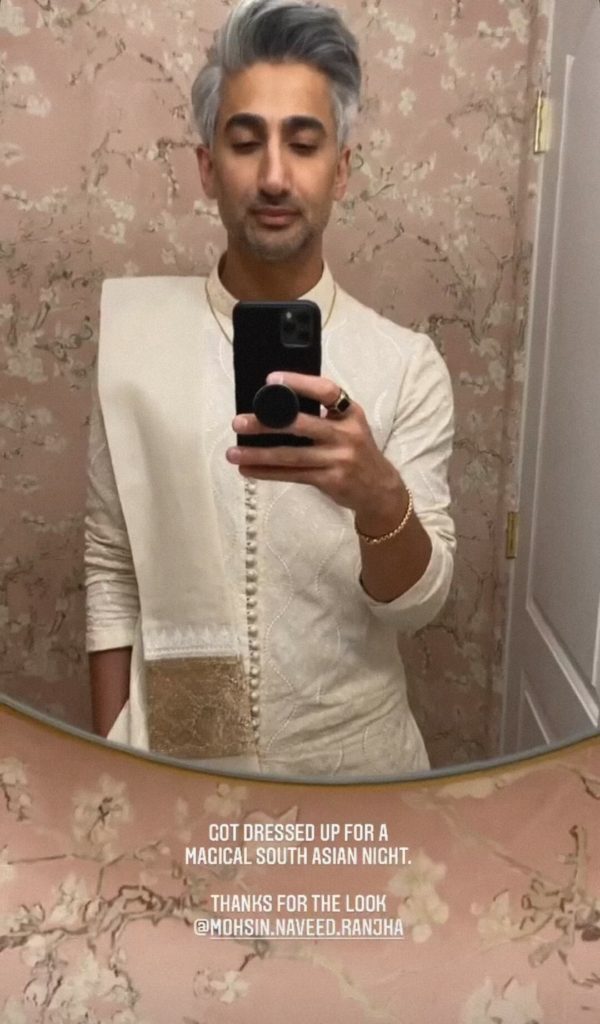 Who doesn't know Tan France! Tanveer France is a British American fashion designer, author, and TV personality. The Queer Eye actor chose a Mohsin Naveed Ranjha ensemble for the British Fashion Awards. Interestingly, he wore a cream-colored short sherwani paired with a handmade cream-colored scarf. The intricate details of the hand embroidery are simply beautiful.
Cricket Commentators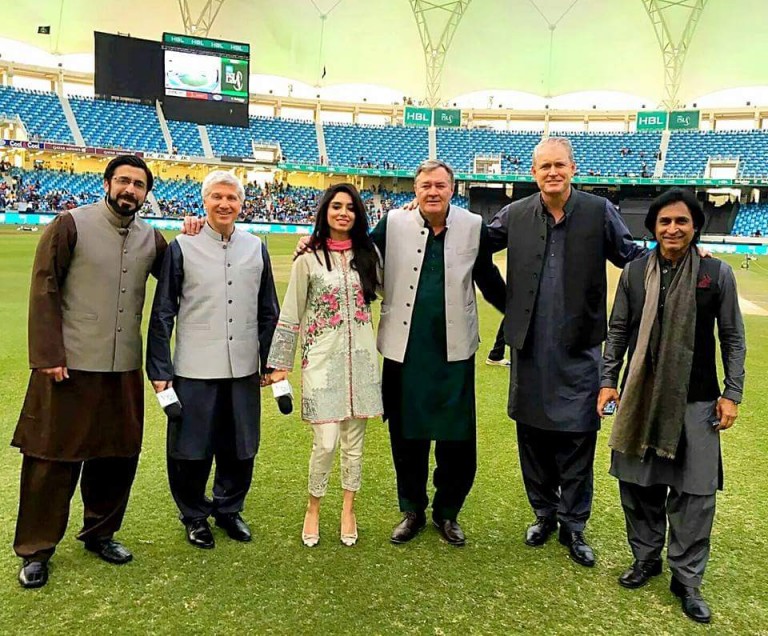 The final PSL match was a burst of Pakistani traditions. Interestingly, all the international commentators wore shalwar kameez, showcasing the rich Pakistani culture and colors. Aren't they all carrying it so well?
Danny Morrison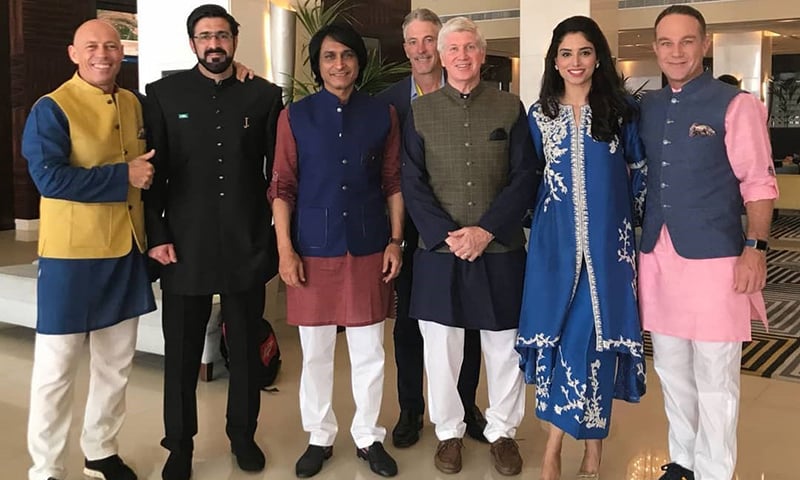 Daniel Kyle Morrison is a New Zealand cricket commentator and a former cricketer. Whenever he visits Pakistan, he wears desi clothing and looks absolutely handsome in shalwar kameez. In sum, It is beautiful to see how the international supporters aren't limited to just the cricket field. Here in the picture, you can see Daniel Fleming, Alan Wilkins, Danny Morrison, and others.