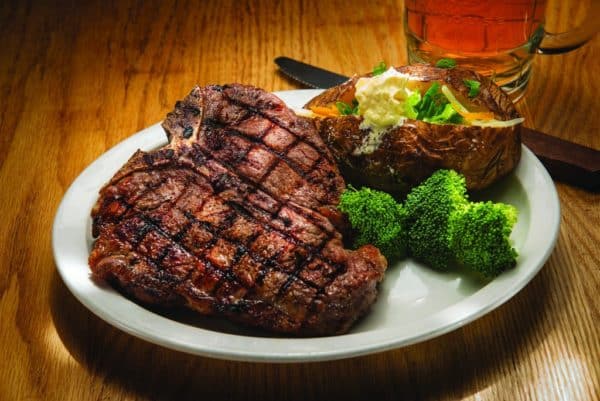 Winters are here and it is the time to gorge on some dry fruits and deliciously grilled/ barbecued food; all while enjoying some nice music, next to a bonfire!
While this picture is totally mouth-watering, if you feel like having nicely grilled steaks today, know that they are served at close-by restaurants! Yes. They are!

'There is only one right way to eat a steak – with greed in your heart and a smile on your face.'
Soumeet Lanka
The winter season naturally whips up our appetite and here we share a list of the top 5 steakhouses in Lahore so that you stay warm, healthy and happy!
Bovinoes Steakhouse
It has been a year since Bovinoes opened up in Lahore and it has already created a niche for itself when it comes to serving quality steaks.
They offer a selection of premium cuts that include Sirloin, T-bone, Ribeye and Filet mignon; all pan-seared to perfection. The steaks are juicy and succulent and paired with an assortment of sauces to tantalize your taste buds.
All steaks are served with a choice of either creamy potato wedges or sautéed vegetables.
Although beef steaks are their strong suit, grilled chicken is something that you should definitely try too. The staff is co-operative, friendly and extremely amiable while the ambience of the restaurant nails it as one of the finest places to have a steak.
Howdy
Although it has been about 5-6 years since Howdy was introduced in Lahore, it has steadily gained popularity over the past few years.
It started off as a burger joint but the steaks that it offers literally take the cake! The meat they use is unprocessed and preservative-free, and their unique feature is that they serve charcoal-grilled steaks which are thick and juicy.
Jalapeno steak, mushroom creamy white sauce steak and mushroom pepper steak are their prime offerings, moreover all the steaks are served with creamy mashed potatoes and an assortment of sautéed vegetables. Yummy, right?
Gun Smoke
'When something's well done, it is usually the steak.'
Anthony T. Hincks

Gun smoke has been on the food scene for a relatively long time and it has maintained its standard throughout. They not only offer quality steaks but the ambiance of the restaurant itself speaks volume.
They offer both beef and chicken steaks that are perfectly grilled. The succulent and tender steaks are a treat and what's more? You can select from a number of flavors for your steak when placing the order.
From the classic gourmet steak to the jalapeno-bleu cheese steak; you are sure to be transported to the wild, wild west!
The Grill House
If you are looking for authentic grilled steaks, then The Grill House should be your next stop!
The Grill House is a relatively newbie as compared to the other restaurants but it has received raving reviews from its customers. Using premium quality meat, they grill the steak to ripe and succulent perfection.
Besides the classic steaks, their beef and chicken steaks with tarragon herb sauce are a sure winner. All steaks are served with sautéed vegetables or mashed potatoes.

Smokey's Texas Grill
Char grilled steaks are a must when winters are here. The aroma of a flawlessly grilled steak is enough to make your mouth water. At Smokey's Texas Grill, the vibes are positive and the delicious steaks make up for a perfect evening!

They offer sliced beef and chicken fajita steaks, while their char grilled steaks are one of a kind. All steaks are served with a variety of sautéed vegetables and a side of either baked or mashed potatoes.

What are you waiting for? Try one of these amazing places today and don't forget to share your review!