Munawwar Husain, 70, is a simple man placed in Lollywood's deceptive scheme of things. Considered the granddaddy of the precious few makeup men at Lahore's Evernew Studios, Husain has powdered and rouged a whole bevy of film babes, from Firdaus to (late) Madam Noorjehan, and prepared a moustache or a wig for every second hero in Tinseltown, though his knowledge of cosmetics is as basic as anything. He cannot tell a concealer from a foundation cream, or a serum from hair oil.
Yet, Husain has survived 40 odd years as a full-time studio employee and is also a proud achiever. So much so that he is not willing to pass on his hard-earned knowledge of the art of makeup.
"Why should I?" he argues, almost arrogantly:
"I dedicated an entire lifetime learning the art and now I should give it all out just like that?"
There is a tinge of bitterness in his tone that stems from the fact that years of dedicated service have borne him no fruits whatsoever.
"Everyday I promise my children that I'll bring them gifts and sweets but I've no money," he laments. "We're living on Allah tawaqqul only!"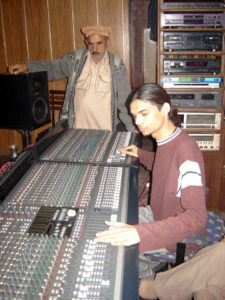 When prodded if it has to do with the film industry going to the dogs, Husain breaks into an emotionally moving spiel, "I've seen the industry's prosperous days all right. I've seen paupers coming in and making huge amounts of money. I saw the rise of a Sangeeta who was a poor girl from Karachi, I saw Ejaz Durrani become a star from being a nobody. And so on. But, our contribution in presenting these people well on screen was never rewarded."
However, Husain admits to a lack of drive because of which he never ventured out, not even when the film industry's decline started a few years back. Though he'd like to blame it on the fact that he's over the hill now.
But, clearly, there is a feeling of being ignored and left out. While TV groups increasingly swarm the studio space to shoot serials and programmes, this hasn't helped Husain or his assistants since each crew comes with its own makeup team. All these crews do is occupy the paint-spattered chairs in front of a large, beetle-stained mirror in the dimly-lit attic of a makeup room. Husain is dislocated for sometime.
Will Work for Food
People like Husain are not a rarity in the Lollywood of today. In fact, as you take a stroll down the corridors of the giant Multan Road studio you come across several people, a lot of them past their retirement age, toiling their lives away. They are either resigned to their fate or too naïve to even realise that there is a world outside the walls of the studios. For a lot of others, switching to greener pastures is a luxury they cannot afford.
"One should not be greedy," contends senior cinematographer Hanif Bhatti.
Bhatti has another film on hand. He has no clue whether he will have any work anytime soon afterwards.
"I am not scared of competition," he defends his stance.
He even dares distributors to pitch the first Bollywood film (expectedly), Sohni Manhival, against a film by the same name that he recently shot.
Having rolled camera for the past 35 years now, Bhatti is not ready to give up hope, albeit for his vocation's sake. "There are times when I've only 8 or 9 shifts a month, but I am glad I am never out of work."
And, to think that Bhatti is one of the busiest technicians in Lollywood today.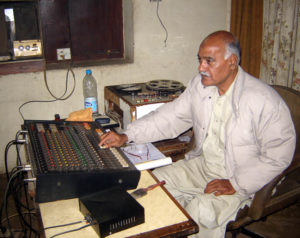 Humayun Malik is more realistic in his approach. A Nigar-award winning, sexagenarian recordist, Malik has faithfully stuck to his job ever since he entered the studios as a young apprentice, back in '60s. But, he speaks cogently of having little or no assignment in the current scenario, as well as of good old days when he worked with such directorial giants as Khalil Qaiser, Kamal Pasha, S Suleman, Hasan Tariq and Shamim Ara who were an inspiration for him.
"Today, we're left with no genuine director," he notes, "Most of them are Gujjars and badmaash whose language is very crude. They know nothing of the nuances of speech, how can they help the artists dub properly?"
But, again, there is an implicit sense of complacency as Malik talks of "making do," that arises from him being "old enough to branch out!"
Renowned film maker and owner of the Evernew empire, Shahzad Gul looks at it in another way, "Most of these technicians do not know the highly competitive world that exists outside the studios. They are used to the machinery we have here. They are self-taught who might have difficulty adjusting some place else."
Whatever the truth may be, the fact is that you don't see a fresh, young crop of technicians coming up in the studios.
"Educated boys are not ready to work at such low salary structure that exists here, and they ought not to," adds Husain who says he would never want his two sons to step into his shoes. Perhaps, the only young technician one finds around the place is 21-year-old Masrur ul Hasan who replaced his elder brother – recordist Mehmood – a month back and is already contemplating quitting and setting up his independent music company.
For the Love of Film
University-educated Sipra Kalyanpuri left his lucrative job of a lecturer to pursue his first love – music – and started composing for films. But, Sipra has had to pay a heavy price for following his heart and not his head.
"For eight long years I waited outside Syed Noor's office, wanting to be introduced to him. I had a few melodies ready to play, but each time the sycophants around the director would shoo me away for their own petty interests. Obviously, they would rather promote somebody who was related to them or paid them out of his own pocket. I wasn't game for that."
While Sipra's long and hard struggle was finally over and he was granted Noor's next two projects, Maa and Do Ankhain (being produced by actress Saima), it is obvious that the angry young man wouldn't wish his worst enemy onto the "hypocrite" film barons.
"Everybody here talks of a dearth of educated people, but when a parha likha banda enters the studio, he is snubbed and made to feel as if he was an alien," says Sipra in a fine mix of English and Urdu.
According to Sipra, electronic media offers better chances to a new comer. He recently recorded a jingle for a private TV production and is in conversation with Sameena Peerzada for her next serial as well. Besides, he is due on a Geo TV show very soon.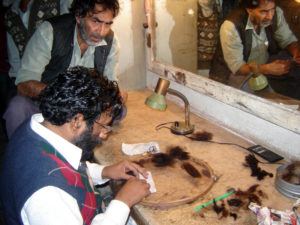 Well known choreographer Pappu Samrat, aged 38 is another, Lollywood crossover story. Having done over 500 movies in almost three decades years (his first movie, Love In Nepal, came out in '88), Pappu now finds takers outside the industry, too. Where films have become fewer in number, he makes a quick buck doing music videos and shows for TV. Proud scion of a family of classical dancers (Khanu, Akbar), Pappu enjoys an edge over other people in the field since he has Kathak training as well as typical 'filmi' dance experience on his resume.
Pappu has also raised a few talented local dance troupes. Lahore's famous Star Group is a band of 4 boys Pappu trained under his able wings.
For Pappu, being young and having a second string to one's bow are definite advantages:
"I think those who are dependent on films only are handicapped in a way, because there is very little work being done. 80% film technicians are sitting idle."
Tucked away in their pokey, little rooms, old-timers wear out like a piece of antiquated studio furniture. Completely unmindful of the kind of challenges the world of modern, state-of-the-art production houses presents, these technicians are content to hole up within their narrow shells that can offer them precious little. Perhaps they feel they are in the age bracket where they don't need to start afresh.