Misbah-ul-Haq and Younis Khan have officially said goodbye to the game. Two of the most prolific scorers in the modern-day test game, the duo have often divided cricket fans with their ability to be absolutely world class for a long period of time and then absolutely go bust when it mattered the most. We, the cynics at CurryFlow, round up a list of negligent attributes that we feel should not be ignored as we say goodbye to MisYou.
They were boring as hell
Let's face it. A lot of us grabbed the remote as soon as these two got out there. Yes, they saved you a lot of test matches and even a few one dayers (Misbah's sure-fire 50 every other match), but there was zero entertainment value. Zero. As the saying goes, you would rather watch a pair of monkeys fornicate then see a partnership blossom between these two batsmen.
They literally ended Muhammad Yousuf's career
Muhammad Yousuf was at the peak of his career and all set to become Pakistan's greatest ever batsmen across all formats – atleast in terms of stats. But then Younis and Misbah happened. Yousuf, for no real drop in form, was dropped from the side due to team chemistry issues and was never to be seen again. His only appearances these days are when he's trashing Rameez Raja or the occassional Pakistani batsmen on a random television show.
They were tragic heroes who faltered when it mattered the most
For all their match winning exploits, the two unfortunately faltered when it mattered the most. Unlike the likes of Dhoni, Kohli and Inzamam, these two were often not victors at the end of a great innings. At best, they could be considered tragic heroes. This is particularly true of Misbah and less so of Younis, who did manage great numbers in test match wins, although just not the more important ones (Australia, anyone?)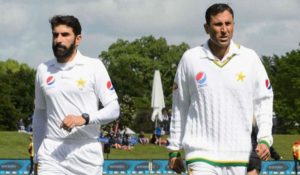 They contributed the most when bowling standards in world cricket dwindled
The retirement of the Akrams, Muralitharans, Warnes, McGraths and so many other all-time great bowlers led to a shortage of truly world class bowlers. This is the main reason so many previously good batsmen became world class in the period starting 2005. Younis and Misbah were no different. As the quality of bowlers in the world became lesser (even more so as T20 took it's toll), the two mounted impressive numbers in test match cricket – and there was no turning back.
Their statistical idiosyncrasies are far too many
Despite their great test match records, there are many statistical idiosyncrasies that will always stand out when these two are evaluated in the future. Younis Khan's long and fruitless ODI career with an average of less than 35 and a miserly strike rate. Then there is the fact that Misbah has not managed a single ODI hundred and a strike rate even worse than Khan's.
Babar Azam and company will soon 
Whenever someone who seems irreplaceable retires, we wonder how in the world will the team come through this? But of-course, that is never an issue in most cases. Someone will come through – they always do in the populated nations of South Asia where there are a number of young stalwarts looking to ooze through the setup and get noticed. Babar Azam, for one – he seems more talented then the both of them combined – and we won't be surprised if he takes the Kohli route rather than the Khan route. The game has changed.