Keeping Up With The Kardashians is still one of the top cable television shows in the United States. It's reality-television format invites us into the lives of wealthy socialites and their antics. It sounds like a dud – but in just over a decade, the show and it's stars have changed pop culture and re-invented social media for good or worse.
But is there a family in Pakistan that could generate the same amount of absurd shameless fun? We reckon there just might be: the Bhutto-Zardari's. Find out why we feel Breaking Up With The Bhuttos isn't such a bad idea.
The Family Prestige

The head honcho of the Kardashian Family, Robert Kardashian, was one of the lawyer's of OJ Simpson, in what was easily the most famous trial in the history of the United States. Robert became a household figure, and of course, he was always filthy rich. Before he died, he inherited a good sum of money to his daughters alongside the family name. While this may same paltry in terms of what was inherited to Benazir Bhutto and later Bilawal, there are similarities still: family values that are highly libertarian, luxury-oriented and self-indulgent.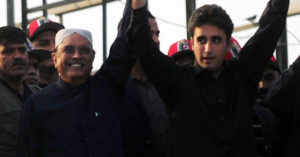 Asif Zardari is the Perfect Kris Jenner
Widowed. Children still bear spouse's last name. Rumoured (if the media is anything to go by) a much younger, more attractive person. Trying achingly to make his children's career more successful. Yes, there are far too many similarities between Kris Jenner & Asif Zardari.
The Controversies
Wherever you see a Kardashian or a Bhutto-Zardari, you expect to see controversy. It starts with simple accusations of lying to the heavyweight felonies of illegal wealth accumulation and moral degradation of an entire nation: these two lots are never away from their share of hair pulling controversy.
Then there is the whole Ayaan saga – which opens up another bag of worms: whose dating who? Are they in love? Is that a lizard on the wall?
The Bilawal Show
Let's face it. Bilawal is to the Bhuttos what Kim is to the Kardashians. Sure, he doesn't have a tape that made them famous, but there are a lot of similarities. Firstly, he's a big time drama queen. Expect Bilawal to raise a tantrum every now and then. Plus, while we don't expect him to have a Bruce Jenner-style gender crisis, we will expect friends and family to throw in a jab at his every now and then. That will make for some great television.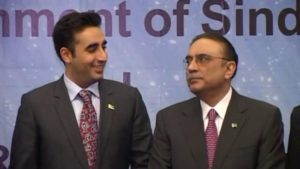 The material life and questionable ethics
Love 'em or hate him, almost everyone has an issue with the questionable ethics of the Kardashians: they lie, cheat, steal and downright fake their way through the day to get whatever it is they want in life. Although we are no one to make the analogy, many of these same accusations have been made against the Bhutto's and Zardari's for nearly half a century now. Whereas Asif Zardari's famous challenge of 'innocent until proven guilty' may ring true, it also goes to say that it's not easy proving you guilty when you're the richest and most powerful man in the country.