Barra Pan Shop
'Barra Paan Shop' in Royal Park has been catering to paan lovers pouring in from downtown as well as posh Lahore, for the past over 30 years now. By virtue of its location in the midst of a whole lot of film distribution offices, the shop has famously attracted Lollywood-specific crowd — from aspiring actors to self-professed 'star makers', even hookers, and of course, the producers, directors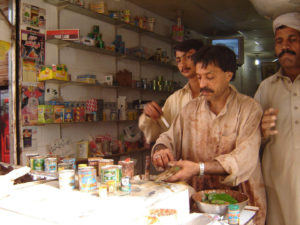 exhibitors lot. Sultan Rahi is said to be the most prominent film star who would regularly order 30 to 40 paans a day.
Sultan Rahi is said to be the most prominent film star who would regularly order 30 to 40 paans a day.
Run for the most part by Ustaad Barra's devout "shagird" (disciple), Anees, the shop offers a variety of paans. Be it the simple 'Meetha', 'Saada' or 'Kawaam', or the tobacco-filled kind that alone comes in a wide range, such as Guru 300, Black Tobacco, Banarasi, Najma, Chandan and others.
'Customised' paans are also made, depending on the demand of the customer.
According to Anees, some customers ask for more tobacco than the rest, or a certain type of tobacco. Then there are some who are fond of a particular flavour, while others insist on 'meetha chhalia'.
Rates are Rs 5 for the simple and Rs 6 for the tobacco-filled paans.
The shop opens at 8.30 in the morning and closes at 11 in the night.
Aas Paan Shop
'Aas Paan Shop' lies on a rather open stretch of a mostly narrow and shadowy street in Lahore's infamous Shahi Mohalla. Set up by Haji Aas Muhammad about half a century ago, the most popular paan shop of the area now boasts two other outlets in the city.
According to Ashfaq Ahmed,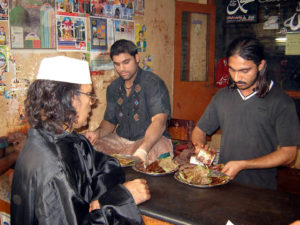 Haji Aas's son, "People vouch for the taste which, they say, hasn't changed in the slightest bit over the past 40 years. This is Aas ke haath ka zaiqa!"
Paan leaves imported from Karachi are used to make 'Kawaam Patti', 'Saunf Khushboo', 'Saada National' and 'Meetha'. The tobacco variety includes 'Paanch Patti' and other specially prepared types.
Ashfaq claims to have made paans for celebrities like Saima and Syed Noor, besides a host of veteran singers who used to live in the mohalla at one time.
The average sale of the shop is over 300 paans a day.
The time when it sells the most: Between 11pm and 1am.
Aashiq Pan Shop
When it comes to popularity as well as sale, 'Aashiq' is the king of the paan market in and around Liberty. Although it is not a very old shop, compared to veterans like 'Benazir Faluda' next door, it sells about 600 paans a day – by far the highest in town.
Interestingly, 'Aashiq' is also the only paan shop that is open for 24 hours.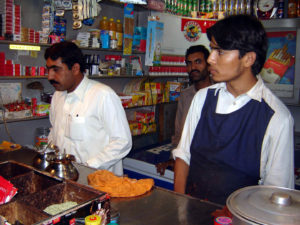 There are a dozen varieties of paan available at 'Aashiq', from 'Raja Jani', 'Zahoor', 'Kiran Maarka' and 'Chandan' to regulars like 'Guru 300' and others.
Mohammad Ali and Zeba were the earliest of celebrities who would buy paans and bottles from the shop.
Jamshaid Ali, 60, fondly called 'Billa', enjoys a little edge among a cluster of convenience stores in Mozang, for it is one of the oldest and most trusted paan shops around.
Billa Paan Corner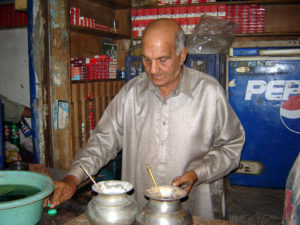 'Billa Paan Corner' opened in 1975 and has since maintained a high standard, though it offers a modest range of paans and the main source of income are the beverages and cigarettes.
"There's no such thing as a 'pukka' client," reflects a straight-forward Billa, known for his honesty, "As they say, a client belongs to no one shop!"