A wedding is an extremely joyous occasion. Indeed, there is something about witnessing a wedding that fills one's heart with love. Royal weddings are no different. In fact, they bring with them an 'oomph' factor that can't be overlooked.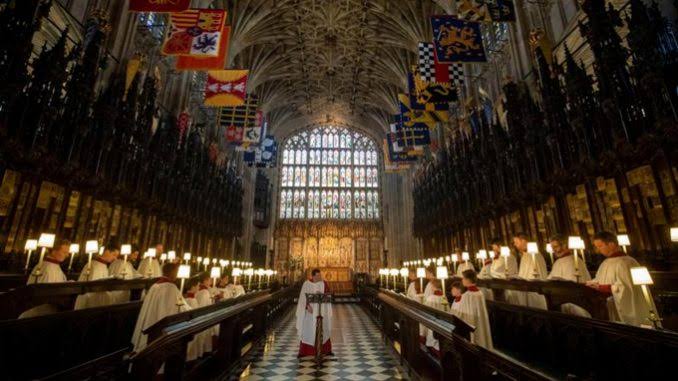 Significantly, it is the wedding gowns that literally take our breath away. Let's go down memory lane and take a look at some of the most glamorous and remarkable wedding gowns till date.
Queen Elizabeth 2, 1947
We all know how Queen Elizabeth came into reign after the tragic demise of her father. However, she was always the next in line to the throne and knew how to win the hearts of the people.
Interestingly enough, when she walked down the aisle in 1947, her wedding gown was more than a fashion statement.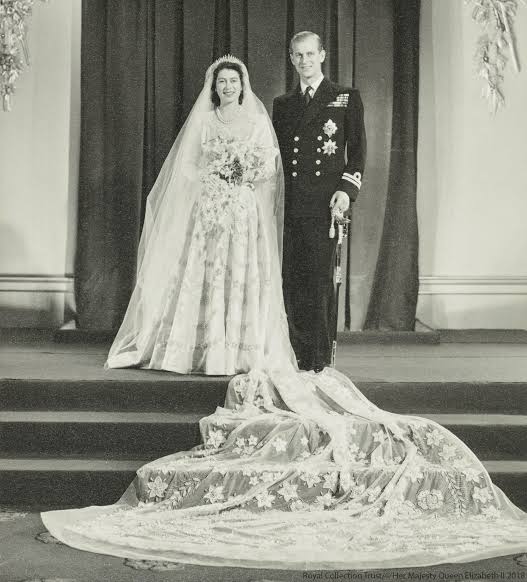 Apparently, in contrast to opulent wedding gowns of that era, her ivory silk wedding gown was embroidered with garlands of spring flowers and seed pearls. Depicting hope and renewal in the post-war Britain.
Grace Kelly, 1956
Apparently, Grace Kelly is credited for setting the trend for elegant and modern wedding dresses of the present times. Her beautiful wedding dress was a gift from MGM studios and had a lace bodice with a pleated silk skirt which required 100 yards of silk net!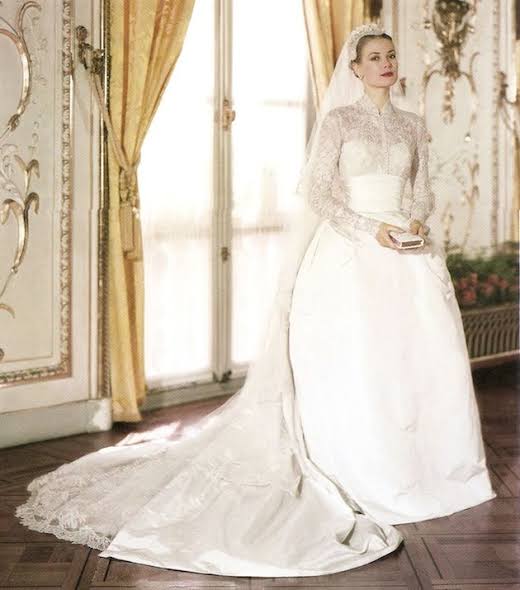 Moreover, the antique Brussels lace on the bodice had hundreds of seed pearls to hide the underlying seams. Instead of a tiara, Grace Kelly opted for a pearls and lace headpiece to hold her veil in place… And the trail was made of lace too!
Queen Noor of Jordan, 1978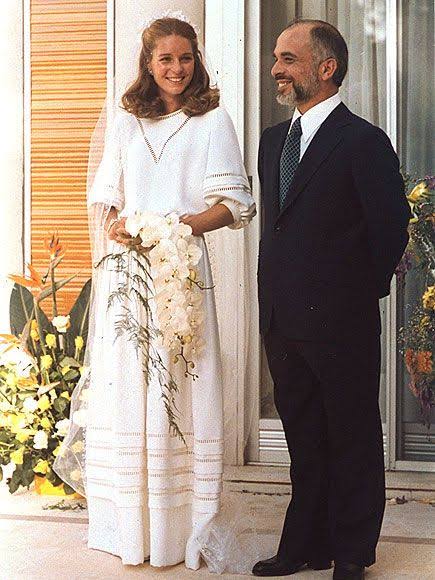 Queen Noor of Jordan's wedding dress was an epitome of minimalism and elegance to say the least. Instead of going for a traditional wedding gown, the house of Christian Dior was commissioned to create the ethereal silk-crepe tiered skirt and a sheer veil.
Needless to say, she glowed on her wedding day! However, if you ask me, a royal dress should be 'Royal'!!!!
Princess Diana, 1981
Obviously, if we are rounding up the best royal wedding gowns, the list can't be complete without mentioning Lady Di's exceptional wedding gown. This masterpiece turned the 'princess wedding gown' of fairy tales into a reality for every teenage girl.
Also, interestingly, instead of opting for the Royal dress-maker, like her predecessors, Lady Di went with little-known designers, David and Elizabeth Emanuel.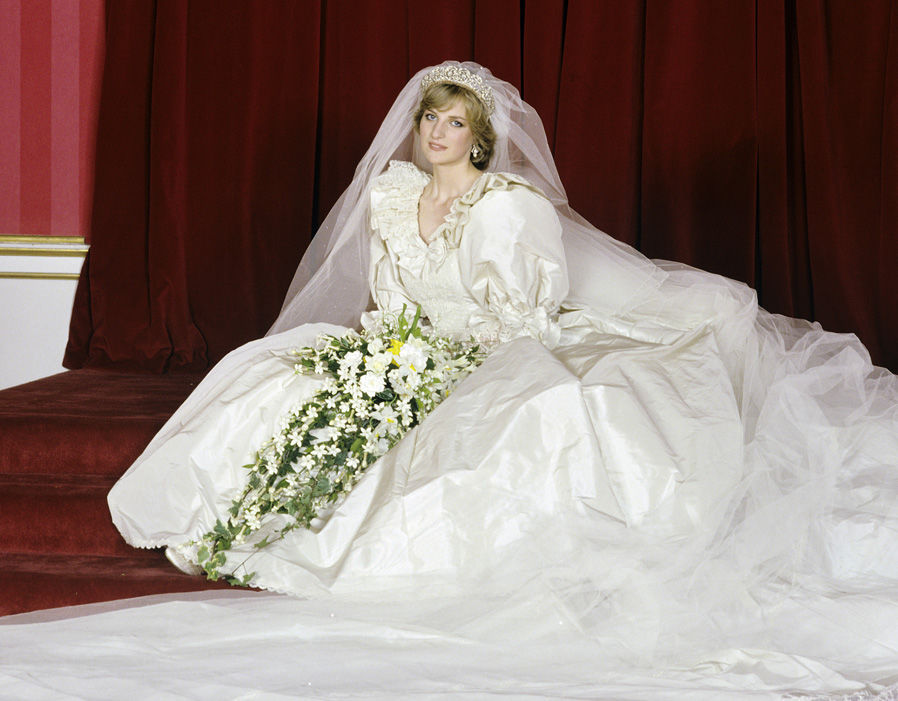 The gorgeous ivory taffeta gown had intricate embroidery of sequins and 10,000 pearls. Moreover, the fabric used in the gown was specially commissioned from a British farm.
In addition to all this, the dress had a 27-foot trail! Can you ever think about walking in such a heavy dress?
Duchess of Cambridge, 2011
In contrast to her late mother-in-law, the Duchess of Cambridge decided to walk the aisle in a traditional wedding gown. However, the traditional wedding gown had its share of modern touches as it was done by Sarah Burton who heads Alexander McQueen.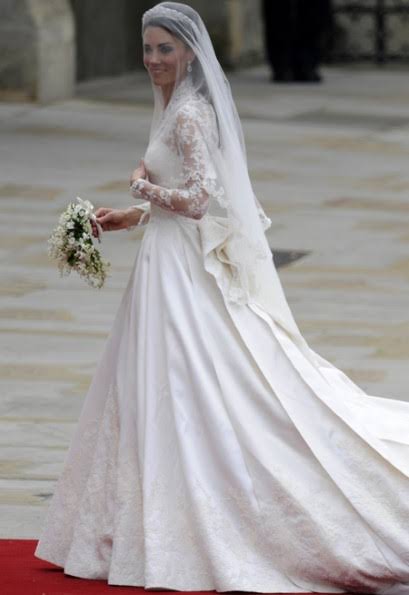 The gown had a long train, classical silhouette and was decorated with intricate floral lace appliqués all over. To summarize, the dress was amazing as it included patterns of rose, thistle, shamrock and daffodil. In addition, the way she carried herself was mere perfection. Don't you agree?
Charlene, Duchess of Monaco, 2011
In contrast to her British counterpart, the Duchess of Monaco chose something different. Apparently, she tailored her wedding gown from Giorgio Armani.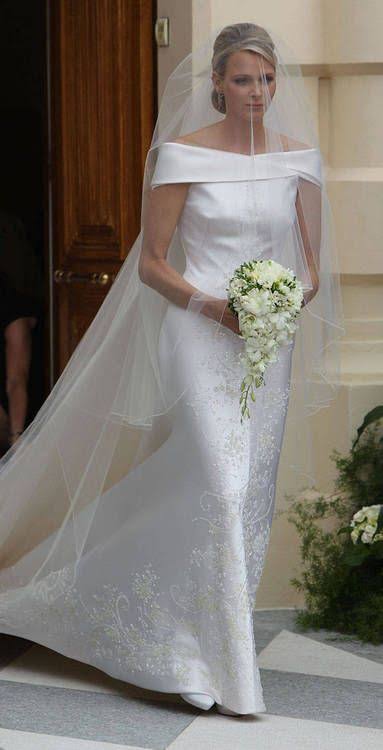 The exquisite wedding gown had silk organza and satin with around 40,000 Swarovski crystals and 20,000 mother-of-pearl teardrops sewn in it. Phew! Just imagine the amount of glamour she spread as she walked!
In addition, the dress looked perfect, not only because of her sleek figure but also because it was totally stunning.
Moreover, the bride's bouquet was sketched by Armani himself! Cool, isn't it.
Duchess of Sussex, 2018
Interestingly, the Duchess of Sussex also decided to break away from tradition on her wedding day. Instead of a typical lace and silk wedding gown, she opted for an off-the-shoulder dress with ¾ sleeves. Making a lovely fashion statement.
Equally important, the 16-foot veil was the show-stopper as it had an intricate hand-embroidered floral pattern on it. This gown was designed by the house of Givenchy.