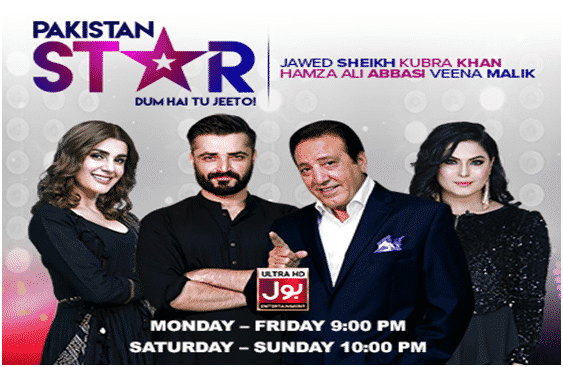 Talent hunt shows have stormed the globe in recent years. Be it any continent, any country; there are shows being aired that showcase talents of all shapes and sizes. Pakistan has seen its fair share of home-grown talent hunts on TV as well, but none of them actually made a mark for themselves except (maybe) "Living On The Edge"; which was mostly a spinoff (or a charba, if you wanna go there) of "Who Dares Wins" rather than a talent hunt show!
Does that mean there's no talent in our country? NO! Our country is filled with immense talent and despite having limited to no access to academics or professional coaching of any kind, our people find ways to train themselves and polish their abilities as much as it is humanly possible.
We still wonder why none of these shows become successful enough to provide a platform for our talented people to showcase themselves?
Recently, Bol Entertainment Group has launched its talent show; 'Pakistan Star- Dum hai tou jeeto!' and we all have our hopes high for this one!
This show has been introduced to be a platform for talents such as Singing, Dancing, Comedy, Mimicry and much more. Nevertheless, why is this show receiving a lot of backlash from its audience?
The biggest problem that we could identify is the selection of the three esteemed judges!
With Hamza Ali Abbasi, Kubra Khan and Javed Sheikh on the panel, one might believe that this is an acting-only talent show; considering all three of them are renowned actors of Pakistan's Film and Drama Industry. But, how does this transpose for other talents?
Why couldn't the panel have diversity? The Inclusion of a singer, a dancer, even a comedian would have brought some sort of fairness to the judgements. We're sure we have many talented and renowned artists in our industry who could take the place.
Here's what Pakistani's have to say about the show!

The criteria for judgements is simply baffling. Are the judges allowed to end an act before it is even completed? Many contestants back lashed the judges upon rejection and the judges were completely taken aback!

Despite the fact that the judges are extremely talented, they are not trained to judge all kinds of talents and that is simply not fair to the contestants.
While some people are completely against the judging panel, some show their love and appreciation towards them!

Recently, Hamza Ali Abbasi bashed a 16 year old girl on dancing on an item number and we can't decide whether to support him on his moral thoughts or consider the fact that he is hosting a talent show where dancing is considered to be one of the core talents exhibited by our youngsters; both boys and girls and it is their choice to choose any song that they like to perform on!
However, generally, we do believe that Item numbers must be eliminated completely from our industry as they do no good for anyone (Maybe, except the producer).

Hilariously, someone on twitter tried to compare Hamza Ali Abbasi to a well known actor Simon Cowell who is seen to host many US singing competitions, despite not being a singer himself but some people don't agree to it at all!

Team Bol really needs to pick up its game by selecting a more diverse range of judges who have a keen eye for talent and can bring up our youngsters to appreciate and work on their God-gifted talents and hobbies!
Reference: