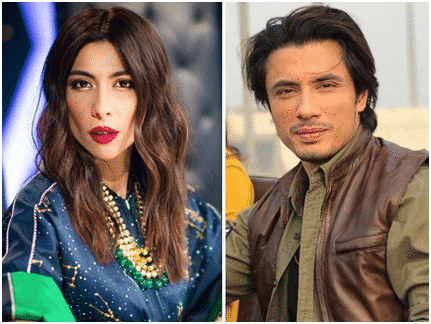 The #MeToo movement was based on a very susceptible topic which is prevalent in our society and has been considered a taboo for a long time now. However, we were shocked to see that this trend turned against one of our Pakistani singers whom we have all grown up listening to.
When Meesha Shafi, a Pakistani singer, spoke up about the alleged harassment by Ali Zafar (another Pakistani singer), all the fans became awe struck.
With the #MeToo movement raging through our newsfeeds last year, we were shocked to witness women speak up about things that they had to go through. From celebrities to influencers and even the general public; every person from all around the world had taken part by either speaking about it or listening to it in order to create a safer environment for both men and women.

But do you think people would take advantage of it?
Meesha shafi took on twitter to talk about her experience and here is what she stated:
Regarding this statement, Ali Zafar on the other hand claimed that no such event ever occurred between him and Meesha Shafi and that she was merely misusing this campaign against him to gain publicity, a Canadian Immigration and to become the next Malala!!!
Here is what Ali Zafar had to say to the media about denying Meesha's claim:
Legally, this case was taken to court by Ali Zafar against Meesha Shafi on the course of defamation at a fine of a 100 crore while Shafi's lawyers claimed to deny any such instance and requested a public apology with a fine of 200 crore!
Anyhow, through a series of court hearings that lasted more than a year, it was claimed by Ali Zafar's legal team that Meesha Shafi had failed to show up with proof and that there had been a technical fault due to which the court had turned in favour of Ali Zafar!
However, based on Ali Zafar's claim regarding why Meesha falsely accused him, Meesha Shafi's legal team claimed that those were not her motives as she already had a Canadian Immigration and also shed light on the fact that Ali Zafar had disgraced a National Hero : Malala.
While the cases were going back and forth, we heard more of each side of the story.
Here's what the public had to say about this scenario:
https://twitter.com/ManalFaheemKhan/status/986932699700121600
While many people supported Meesha for speaking out, Ali Zafar's supporters were not far behind in expressing their views either!
On a TV Show, with Wife Ayesha Fazli, Ali Zafar talked about the issue and urged Meesha to come on air and talk about it too…And surprisingly, she did!
She came on a show hosted by Shahzaib Khanzada on Geo News and talked about her claims in a bold and unapologetic manner which was praised by many! People also praised Shahzaib on conducting this sensitive issue with respect and concern for the singer.
As a reply to this interview, Ali Zafar tweeted that 'She just won me my case!'
While numerous people from the film fraternity believed and praised Meesha on raising her voice on such a taboo topic, a lot of them stood by Ali Zafar and denied to accept any allegations against him.
With claims that the court had ruled in favour of Ali Zafar, fans were enraged to see the case turn in favour of a man through our patriarchal system of law.

It seems as if we will never be able to judge if this was a publicity stunt pulled by Ms. Shafi or if Ali Zafar really is the man she claimed him to be?